Wisconsin Oven Ships Mini Top Flow Conveyor Oven for a Leader in Industrial Molding and Technology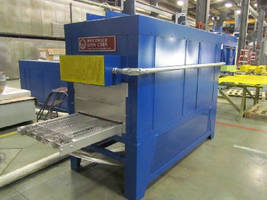 East Troy, WI – Wisconsin Oven Corporation announced the shipment of an electrically heated Mini-Top Flow conveyer oven to be used for drying water off of tablet screens after testing. Removing water prior to packaging improves the quality of the final packaged product. The Mini-Top Flow (MTF) model oven offers a compact foot print at a very cost effective price. The production rate for this oven is 600 parts per hour.



This Mini-Top Flow belt conveyor oven has a maximum temperature rating of 200°F (93°C) and working chamber dimensions of 2'0" W x 6'8" L x 6" H. The conveyor oven has 36kW of heat input and SSR power control with back-up contactors. The heaters are wired individually so if one fails the oven will continue to operate until maintenance can be scheduled. The recirculation system utilizes two (2) 1,700 CFM @ 1 ½ HP direct-driven blowers for a total recirculation air of 3,400 CFM.



"Often times our customers need a space saving solution that fits into a small footprint but does not compromise their production capacity. This Mini-Top Flow Conveyor Oven was a compact solution that provided our customer with the production rate required." Tom Trueman, Senior Application Engineer, Wisconsin Oven Corporation



Unique features of this Mini-Top Flow conveyor oven includes:




Distinctive compact design



Adjustable conveyor speed



Stainless steel conveyor belt for corrosion resistance



Electrically heated and shipped completely assembled for easy installation



Designed for installation in Mexico



This Mini-Top Flow conveyor oven was fully factory tested and adjusted prior to shipment to help reduce installation and start-up times. A factory acceptance test was completed to ensure the equipment met all quality standards and complied with the customer's scope of supply. The conveyor oven is backed by Wisconsin Oven's Exclusive and Unprecedented 3-Year WOW™ warranty. This warranty covers all materials for all components (less wear items).



About Wisconsin Oven

Wisconsin Oven Corporation has been designing, engineering, and manufacturing industrial ovens and other heating equipment since 1973. Their custom and standard industrial ovens are used for a multitude of applications including heat treating, finishing, drying, and curing. Many of the industries they serve require specific temperature uniformity and equipment performance documentation. Their experienced design team is able to meet even the most stringent standards for their customers' equipment. Wisconsin Oven realizes that the success of the company depends on their Championship team of employees, which is why they have  developed a company culture that recognizes and rewards employees. The goal at Wisconsin Oven is to outperform competition and provide customers with outstanding products and service.



Wisconsin Oven is owned by Thermal Product Solutions ("TPS"), a leading American manufacturer of custom industrial ovens used for heat treating, finishing, drying, curing, manufacturing automation and process control. TPS is a global leader in thermal processing products and test solutions with brands including Baker Furnace, BlueM, Gruenberg, Tenney, Lindberg/MPH, Lunaire, and Wisconsin Oven. For more information on equipment solutions from TPS visit the website at www.thermalproductsolutions.com.