Wisconsin Oven Ships Horizontal Solution Treat System with Chiller System to Aerospace Industry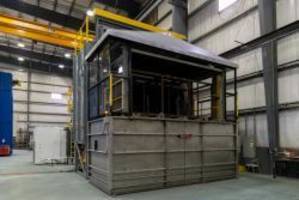 Wisconsin Oven Corporation announced the shipment of one (1) Electrically Heated Horizontal Solution Treat System with a chiller system to a manufacturer in the aerospace industry.
The Horizontal Solution Treat System has a maximum oven operating temperature of 1,100°F and work zone dimensions of 12'3" wide x 3'11" long x 4'6" high. Guaranteed temperature uniformity of ±10°F at set points of 870°F, 920°F, & 985°F was documented with a twelve (12) point profile test in an empty oven chamber under static operating conditions and was performed in accordance with BAC 5621F specifications.
This horizontal quench system was designed to heat a 2,840-pound gross load, consisting of a mixture of aluminum and steel, to 1,000° F operating temperature, provide a soak at temperature, and then quickly move the load into a quench tank. A hydraulically operated load/unload system lowers and raises the load for quenching. This system achieved a quench time from the time the oven door starts to open until the load is fully submerged of 7 seconds.
"Wisconsin Oven has supplied thousands of standard and custom ovens to the aerospace industry. With the aerospace industry being such a diverse field, a majority of the equipment we provide is unique. This particular system achieved a quench time of 7 seconds due to the custom requested hydraulic mechanisms." – Doug Christiansen, Application Engineer
Unique features of this solution treat system include:
Quench time that will not exceed 7 seconds from the time the door starts to open until the load is fully submerged
304 Stainless steel quench tank with 5,000-gallon capacity and a centrifugal pump rated for 500 GPM to provide tank water agitation
Hydraulically powered pusher mechanism with linear rails and a pusher extension to charge and discharge the load
Hydraulically operated quench tank lift system to lower/raise the load
Hydraulically operated oven vertical lift door
Ladders, railings, and platforms included for maintenance access to roof mounted components with additional railings, and portable platforms designed to provide safe access for maintenance personnel inside the oven chamber and to bridge the gap between oven/quench tank
Four (4) stainless steel load fixtures
Outdoor located glycol chiller system rated to remove 580,000 BTU per hour from the quench tank water; system also included an indoor heat exchanger located between chiller and quench tank 
Sequence control performed by an Allen-Bradley CompactLogix processor with a PanelView Plus 7 standard 10.4" color touch screen
Digital recording system (to record temperatures from the oven and quench tank)
Uninterruptable Power System designed to maintain power to the recording system, HMI, and PLC should a facility loss of power occur 
This horizontal system was fully factory tested and adjusted prior to shipment from our facility. All safety interlocks were checked for proper operation and the equipment was operated at the normal and maximum operating temperatures. An extensive quality assurance checklist was completed to ensure the equipment met all Wisconsin Oven quality standards.
Contact This Company Download Spec Sheet
More from Software