Wisconsin Oven Ships Gas Fired Powder Coating Batch Oven to Automotive Supplier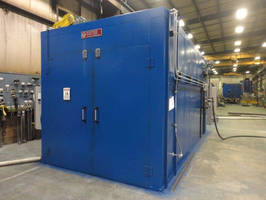 East Troy, WI – Wisconsin Oven Corporation announced the shipment of a gas fired heated walk-in batch oven that will be used for curing powder paint on various wheel rims and automotive parts. The powder coating oven has sufficient capacity to heat 1,500 pounds of steel from 70° to 450°F within 45 minutes when loaded into an ambient oven. Powder coating parts is an important process during manufacturing because it prevents corrosion and increases the durability.  The heat is distributed as evenly as possible and this reduces the potential for issues with the curing.



The walk-in powder curing oven has a maximum temperature rating of 500°F and work chamber of 8'W x 20'L x 8'H. The recirculation system utilizes combination airflow to maximize heating rates and temperature uniformity of the products. With uniform air distribution along the entire length of the work chamber, quality cured finishes and optimum cure cycles are achieved in every use.  Bi-parting doors allow for easy loading and unloading of parts. A door limit switch saves energy by switching the burner to low fire when the doors begin to open. 



"Wisconsin Oven's powder coating oven line provides excellent temperature uniformity which results in consistent part quality every batch. Our goal is to maximize our customer's production rate and minimize any part rework." Nick Toci, Sales Engineer



Unique features of this powder curing batch oven include:

• Recirculation system featuring two 6,000 CFM @ 7.5 HP recirculation blower

• 400 CFM @ ½ HP Exhaust blower

• 950,000 BTU's

• Eurotherm 3204 controller

• Process timer

• Door limit switch

• Main disconnect

• 480 volts, 3 phase, 60 hz

• 5-Year warranty



This walk-in batch oven is fully factory tested and adjusted prior to shipment to help reduce installation and start-up times. A 150 point Quality Assurance check list was completed to ensure the equipment met all Wisconsin Oven quality standards. The industrial batch ovens are backed by Wisconsin Oven's Exclusive and Unprecedented 5-Year WOW™ warranty. This warranty covers all materials for all components (less wear items).



About Wisconsin Oven

Wisconsin Oven Corporation has been designing, engineering, and manufacturing industrial ovens and other heating equipment since 1973. Their custom and standard industrial ovens are used for a multitude of applications including heat treating, finishing, drying, and curing. Many of the industries they serve require specific temperature uniformity and equipment performance documentation. Their experienced design team is able to meet even the most stringent standards for their customers' equipment. Wisconsin Oven realizes that the success of the company depends on their Championship team of employees, which is why they have developed a company culture that recognizes and rewards employees. The goal at Wisconsin Oven is to outperform competition and provide customers with outstanding products and service.