Wisconsin Oven Ships Conveyor Curing Oven for a Leading Supplier of Flooring Products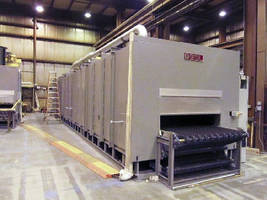 East Troy, WI -- Wisconsin Oven Corporation announced the shipment of one (1) natural direct gas fired three (3) zone conveyor oven with cool down to a leading supplier of flooring products. The conveyor oven will be used for curing adhesive on parts at a rate of 350 parts per hour.



The curing conveyor oven was designed with three (3) heating zones and one (1) cooling zone. This design provides an optimal cure of adhesive on the parts. Each zone includes a personnel access door on the side of the oven for ease of access during maintenance and service.



The curing oven has a maximum temperature rating of 600°F and total work chamber dimensions of 5'0" W x 45'0" L x 1'0" H.



Guaranteed temperature uniformity of ±10 at 400°F was verified through a temperature profile test using measurements from 30" in from each opening, in a stabilized oven. An infrared pyrometer monitors the part temperature at the exit of both the final heating and the cooling zone. If the product temperatures exceed its setting, an alarm will sound as a result. The conveyor oven is rated for Class A use as defined by NFPA 86 with a solvent rating of 0.14 gallons per hour.



"We strive to design our equipment to provide the best quality part results for our customers. In this case three heating zones followed by a cool down zone resulted in the highest quality cure for their product while the conveyor system maximized their production rate." - Gene Vetter, Application Engineer



Unique features of this belt conveyor oven includes:




Top down airflow



Three (3) 15' long direct gas heating zones



One (1) 15' long ambient air cooling zone



Temperature uniformity of ±10 at 400° F



Conveyor speed range of 10 to 60 feet per minute



Infrared pyrometer to monitor part temperature upon exit of both the final heating and cooling zones



This conveyor oven was fully factory tested and adjusted prior to shipment to from our facility. All safety interlocks are checked for proper operation and the equipment is operated at the normal and maximum operating temperatures. A 150-point quality assurance check list was completed to ensure the equipment met all Wisconsin Oven quality standards.



About Wisconsin Oven

Wisconsin Oven Corporation has been designing, engineering, and manufacturing industrial ovens and other heating equipment since 1973. Their custom and standard industrial ovens are used for a multitude of applications including heat treating, finishing, drying, and curing. Many of the industries they serve require specific temperature uniformity and equipment performance documentation. Their experienced design team is able to meet even the most stringent standards for their customers' equipment. Wisconsin Oven realizes that the success of the company depends on their championship team of employees, which is why they have developed a company culture that recognizes and rewards employees. The goal at Wisconsin Oven is to outperform competition and provide customers with outstanding products and service.



Wisconsin Oven is owned by Thermal Product Solutions ("TPS"), a leading American manufacturer of custom industrial ovens used for heat treating, finishing, drying, curing, manufacturing automation and process control. TPS is a global leader in thermal processing products and test solutions with brands including Baker Furnace, Blue M, Gruenberg, Lindberg/MPH, Lunaire, Tenney, and Wisconsin Oven. For more information on equipment solutions from TPS visit the website at www.thermalproductsolutions.com.