Wisconsin Oven Ships Composite Curing Ovens to a Composites Manufacturer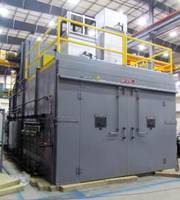 East Troy, WI – February 8, 2018 - Wisconsin Oven Corporation shipped two (2) Electrically Heated Ultimate Duty Composite Curing Ovens to a North African composites manufacturer. The composite curing ovens will be used for curing honeycomb composite material.
The maximum operating temperature of these curing ovens is 500°F and the work chamber dimensions are 8'0" W x 22'0" L X 6'0" H. These curing ovens are designed with the capability to heat 1,500 pounds of steel/aluminum and 50 pounds of composite material from 70° to 350° F at an average of 15° F per minute.
Both the curing oven bodies are constructed with biparting, side-hinged, horizontal swing doors at one (1) end. The recirculation system features combination airflow which maximizes heating rates and temperature uniformity of these products. The customer required guaranteed temperature uniformity of ±5° F at set points of 250° F and 350° F with the recirculation blowers operating at full speed to meet BAC 5621, Class 1 requirements.
"At Wisconsin Oven, customer satisfaction is of the utmost importance. This is a repeat customer that has appreciated our dedication to customer service and the quality of our equipment." ~Jim Lucas, Senior Sales Engineer
Unique features of these composite curing ovens include:
Meets BAC 5621, Class 1 furnaces and Instrumentation Type A requirements
Allen Bradley PowerFlex 523 variable frequency drive
Combination airflow to maximize heating rates
Reinforced insulated floor
Programmable temperature controller and high limit controllers
Premium Data Acquisition and Control system
Vacuum piping system
Four (4) interior lights
These composite curing ovens were fully factory tested and adjusted prior to shipment from our facility. All safety interlocks are checked for proper operation and the equipment is operated at the normal and maximum operating temperatures. An extensive quality assurance check list was completed to ensure the equipment met all Wisconsin Oven quality standards. This equipment is backed by Wisconsin Oven's Exclusive and Unprecedented 3-Year WOW™ warranty (parts only).
About Wisconsin Oven
Wisconsin Oven Corporation has been designing, engineering, and manufacturing industrial ovens and other heating equipment since 1973. Their custom and standard industrial ovens are used for a multitude of applications including heat treating, finishing, drying, and curing. Many of the industries they serve require specific temperature uniformity and equipment performance documentation. Their experienced design team is able to meet even the most stringent standards for their customers' equipment. Wisconsin Oven realizes that the success of the company depends on their Championship team of employees, which is why they have developed a company culture that recognizes and rewards employees. The goal at Wisconsin Oven is to outperform competition and provide customers with outstanding products and service.
Wisconsin Oven is owned by Thermal Product Solutions ("TPS"), a leading American manufacturer of industrial ovens, furnaces, pharmaceutical sterilizers, laboratory ovens, environmental temperature chambers, and stability test chambers. TPS provides thermal processing and test solutions for a range of industries. TPS brands include Baker Furnace, Blue M, Gruenberg, Tenney, Lindberg, Lunaire, MPH, and Wisconsin Oven. For more information on equipment solutions from TPS visit the website at www.thermalproductsolutions.com.
Contact This Company Download Spec Sheet
Related