Wisconsin Oven Ships Aluminum Aging Ovens to an Automotive Parts Manufacturer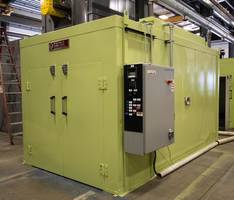 East Troy, WI – July 5, 2018 – Wisconsin Oven Corporation announced the shipment of four (4) electrically heated enhanced duty walk-in ovens to an automotive parts manufacturer. These industrial ovens will be used for aging aluminum parts.
The walk-in ovens have a maximum operating temperature of 260°C (500°F) and work chamber dimensions of 6'0" W x 15'0" L x 6'0" H. Guaranteed temperature uniformity of +/- 10°F at 200°C (392°F) was documented with a standard nine (9) point profile test in an empty chamber under static operating conditions.
The aging ovens are constructed with tongue and groove panel assemblies that feature Wisconsin Oven's patented high efficiency panel seams which provide 25% better insulating efficiency. The ovens are designed with horizontal airflow to maximize heat up rates and temperature uniformity of the product. Each of the industrial ovens feature bi-parting, side hinged, horizontal swing doors at both ends for loading and unloading of the product.
"Here at Wisconsin Oven we understand that each of our customers have specific requirements for their application which is why we work with them to design an equipment solution that provides the optimal part result. This is the second order we have shipped to this customer and we take pride in the fact that they have joined our growing list of repeat customers." - Mark D. Schahczinski, Sales Engineer
Unique features of these walk-in ovens include:
• Digital programmable controllers with fast acting advanced auto-tune functionality
• Yokogawa recorders
• Digital process timers
• Guaranteed temperature uniformity of +/- 10°F at 200°C (392°F)
The aging ovens were fully factory tested and adjusted prior to shipment from our facility. All safety interlocks are checked for proper operation and the equipment is operated at the normal and maximum operating temperatures. An extensive quality assurance check list was completed to ensure the equipment met all Wisconsin Oven quality standards. This equipment is backed by Wisconsin Oven's Exclusive and Unprecedented 5-Year WOW™ warranty (parts only).
About Wisconsin Oven
Wisconsin Oven Corporation has been designing, engineering, and manufacturing industrial ovens and other heating equipment since 1973. Their custom and standard industrial ovens are used for a multitude of applications including heat treating, finishing, drying, and curing. Many of the industries they serve require specific temperature uniformity and equipment performance documentation. Their experienced design team is able to meet even the most stringent standards for their customers' equipment. Wisconsin Oven realizes that the success of the company depends on their Championship team of employees, which is why they have developed a company culture that recognizes and rewards employees. The goal at Wisconsin Oven is to outperform competition and provide customers with outstanding products and service.
Wisconsin Oven is owned by Thermal Product Solutions ("TPS"), a leading American manufacturer of industrial ovens, furnaces, pharmaceutical sterilizers, laboratory ovens, environmental temperature chambers, and stability test chambers. TPS provides thermal processing and test solutions for a range of industries. TPS brands include Baker Furnace, Blue M, Gruenberg, Tenney, Lindberg, Lunaire, MPH, and Wisconsin Oven. For more information on equipment solutions from TPS visit the website at www.thermalproductsolutions.com.