Wisconsin Oven Ships Aluminum Aging Oven to the Aerospace Industry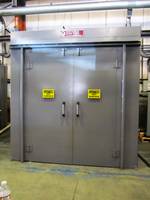 East Troy, WI – August 21, 2017-- Wisconsin Oven Corporation shipped an electrically heated aluminum aging oven to an aerospace parts manufacturer. This will be the third industrial oven supplied to this customer by Wisconsin Oven. This SWH series batch oven will replace an antiquated oven at the customer's facility that was having difficulties meeting AMS 2750E Class 2 specifications.
The work chamber of this aging oven is 6'0" W x 8'0" H x 8'0" L and the maximum temperature rating is 344°C (650°F). The customer required guaranteed temperature uniformity of ±5°C (±9° F) at set points 154°C (309°F), 227°C (440°F), and 330°C (626°F) to ensure the oven would meet AMS 2750E, Class 2 furnaces and Instrumentation Type D specifications. The age oven is constructed with tongue and groove panel assemblies that feature Wisconsin Oven's patented high efficiency panel seams and provide 25% better insulating efficiency. The recirculation system utilizes combination airflow to maximize heating rates and temperature uniformity of the product.
"Due to Wisconsin Oven's ability to consistently provide equipment with superb temperature uniformity and reliability, this customer has ordered three ovens for their facility from us." David Burke, Torrid Enterprises, Sales Representative
Unique features of this industrial oven include:
Guaranteed temperature uniformity of ±5°C (±9° F) at set points 154°C (309°F), 227°C (440°F), and 330°C (626°F)
Meets AMS 2750E, Class 2 furnaces and Instrumentation Type D specifications
15,500 CFM @ 15 HP recirculation blower
132 kW heating system with SCR power control
Yokogawa UP 550 programmable temperature control
NEMA 12 control cabinet with main line disconnect
6" insulated panel walls and ¾" plate floor
Bi parting swing doors at the front of the oven
This aluminum age oven was fully factory tested and adjusted prior to shipment from our facility. All safety interlocks are checked for proper operation and the equipment is operated at the normal and maximum operating temperatures. An extensive quality assurance check list was completed to ensure the equipment met all Wisconsin Oven quality standards. This equipment is backed by Wisconsin Oven's Exclusive and Unprecedented 5-Year WOW™ warranty (parts only).
About Wisconsin Oven
Wisconsin Oven Corporation has been designing, engineering, and manufacturing industrial ovens and other heating equipment since 1973. Their custom and standard industrial ovens are used for a multitude of applications including heat treating, finishing, drying, and curing. Many of the industries they serve require specific temperature uniformity and equipment performance documentation. Their experienced design team is able to meet even the most stringent standards for their customers' equipment. Wisconsin Oven realizes that the success of the company depends on their Championship team of employees, which is why they have developed a company culture that recognizes and rewards employees. The goal at Wisconsin Oven is to outperform competition and provide customers with outstanding products and service.
Wisconsin Oven is owned by Thermal Product Solutions ("TPS"), a leading American manufacturer of industrial ovens, furnaces, pharmaceutical sterilizers, laboratory ovens, environmental temperature chambers, and stability test chambers. TPS provides thermal processing and test solutions for a range of industries. TPS brands include Baker Furnace, Blue M, Gruenberg, Tenney, Lindberg, Lunaire, MPH, and Wisconsin Oven. For more information on equipment solutions from TPS visit the website at www.thermalproductsolutions.com.
Contact:
Wisconsin Oven
2675 Main Street
East Troy, WI 53120 USA
T. 262.642.3938
F. 262.363.4018
Contact This Company Download Spec Sheet
More from Software