Wisconsin Oven Conveyor Oven Increases Production Rate for Curing Coating on Maple Syrup Bottles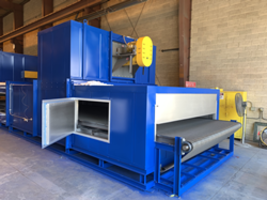 EAST TROY, WIS. (PRWEB) OCTOBER 23, 2019 - Wisconsin Oven is pleased to announce the shipment of one (1) Electrically Heated Two Zone Bottom Flow Conveyor Oven to the consumer goods industry. This belt conveyor oven will be used to cure a latex barrier coating onto maple syrup bottles.
The maximum operating temperature of the curing conveyor oven is 150° F and the work chamber dimensions are 9'7" wide x 42'0" long x 1'0" high. The oven is designed for a production rate of 3,200 bottles per hour. The conveyor system is a continuous belt style including load/unload extensions and utilizes an Allen Bradley variable frequency drive for speed adjustments.
"This curing conveyer oven is designed with bottom-up airflow to deliver the airflow vertically up through the part load. A variable frequency drive was also included in the design to provide the customer with the flexibility to adjust the belt speed based on their processing needs." Tom Trueman, Senior Applications Engineer
Unique features of this industrial conveyor oven include:
Bottom-up airflow
Continuous stainless steel flat wire belt
Allen-Bradley PowerFlex 525 variable frequency AC drive
Digital Eurotherm 3204 programmable temperature controller
Digital Watlow PM6L oven high limit controller
Sufficient capability to cure 3,200 bottles per hour
This conveyor oven was fully factory tested and adjusted prior to shipment from our facility. All safety interlocks were checked for proper operation and the equipment was operated at the normal and maximum operating temperatures. An extensive quality assurance check list was completed to ensure the equipment met all Wisconsin Oven quality standards. This equipment is backed by Wisconsin Oven's Exclusive and Unprecedented 3-Year WOW™ warranty (parts only).
About Wisconsin Oven
Wisconsin Oven Corporation has been designing, engineering, and manufacturing industrial ovens and other heating equipment since 1973. Their custom and standard industrial ovens are used for a multitude of applications including heat treating, finishing, drying, and curing. Many of the industries they serve require specific temperature uniformity and equipment performance documentation. Their experienced design team can meet even the most stringent standards for their customers' equipment. Wisconsin Oven realizes that the success of the company depends on their Championship team of employees, which is why they have developed a company culture that recognizes and rewards employees. The goal at Wisconsin Oven is to outperform competition and provide customers with outstanding products and service.
Wisconsin Oven is owned by Thermal Product Solutions ("TPS"), a leading American manufacturer of industrial ovens, furnaces, pharmaceutical sterilizers, laboratory ovens, environmental temperature chambers, and stability test chambers. TPS provides thermal processing and test solutions for a range of industries. TPS brands include Baker Furnace, Blue M, Gruenberg, Tenney, Lindberg, Lunaire, MPH, and Wisconsin Oven. For more information on equipment solutions from TPS visit the website at http://www.thermalproductsolutions.com.
Contact Information
Andrea Strand
Cutwing Marketing
http://www.cutwingmarketing.com
2622480288
More from Health, Medical, & Dental Supplies and Equipment