Wiring System incorporates security and structured wiring.
Press Release Summary: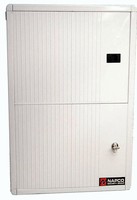 Securi-Smart structured wiring system comprises of P801 and P1632 Turnkey Kits and Securi-Smart® Net8 kits which are preconfigured with and without mounted Gemini systems. Kits can mount Securi-Smart® Net8 Tele/Data Module, necessary brackets, video distribution center module, grommets, locks, and dust cover. Securi-Smart Net8 wiring system is suited for 2 telephone lines, and provides 10/100 base Ethernet connection over single CAT5e wire.
---
Original Press Release:

Create Structure with Napco's Securi-Smart Turnkey Wiring & Security Solution



Napco Security Systems, Inc, is introducing Securi-Smart structured wiring system. This simple money-saving system incorporates security and structured wiring. Napco's exclusive P801 & P1632 Turnkey Kits and Securi-Smart® Net8 all-inclusive kits, are preconfigured enclosures with and without mounted Gemini systems. These kits can mount Securi-Smart® Net8 Tele/Data Module, necessary brackets, video distribution center module, grommets, locks, dust cover etc. With Securi-Smart, there are no more missing components or inventory issues.

Securi-Smart Kits come with everything you need, even Gemini security. Unique Dual Door Aluminum Enclosure models with locking dedicated security compartment eliminates interference with consumers and contractors. Labor and money-saving patented wiring module combines voice and data lines together for fewer wiring runs, eliminating 1 run/room, typical. Heavy duty, extruded aluminum, powder-coated enclosures are built to last. All inclusive, turnkey structured wiring kits are available pre-configured with Gemini and systems come with all necessary modules, brackets, amps, etc. which eliminates guesswork and missing components. Convenient, pre-packed kits are ideal for each room.

Also available is the Securi-Smart Net8, the only wiring system on the market that provides for 2 telephone lines and a 10/100 base Ethernet connection over a single CAT5e wire. Our technology adds built-in computer networking capability to residential accounts virtually at no extra cost. Available to our single wire technology is a full line of additional Securi-Smart modules necessary for efficiency, linking voice, data and splitting and amplifying video. Network and security enclosures, rough-in kits, deluxe extruded aluminum rough-in kits and enclosures come with hinged doors. Flexible screw-rail mounting system universally supports most component brands.

Power-coated hinged door and unique dual door aluminum enclosures with locking dedicated security compartment, keeps security systems integrity safe from consumers and contractors. 3 single door and 3 dual-door enclosures are available with companion dust covers: 14", 18", 24" and 12" over 12", 24" over 12" and 24" over 24" dual door models.

To learn more about Securi-Smart turnkey kits and our smart structured wiring and security solution from Napco, please contact your local distributor or visit www.napcosecurity.com. If you have any questions about our extensive line of security products or want to register for CEU accredited field training, feel free to contact a Napco sales manager or customer service representative at 1-800-645-9445.

About Napco Security Group

The Napco Security Group (NASDAQ: NSSC) is a leading diversified manufacturer of security products, encompassing burglar and fire alarm, access control systems, video and electronic digital and proximity locks, as well as panic exit hardware. Sold and installed by security dealers, locksmiths and systems integrators to millions of homes, businesses, and institutions around the globe.

Contact: David Saltzman
Napco Security Group
333 Bayview Avenue
Amityville, NY 11701
631-842-9400 ext 169
dsaltzman@napcosecurity.com

More from Controls & Controllers