Wireway System permits easy service access.
Press Release Summary: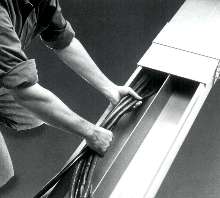 Comway(TM) Lay-In Wireway uses fiberglass composite and fire-retardant resin formulations for corrosion resistance. Snap-on cover protects data control, communication, and power cables from adverse atmospheric conditions and unauthorized/accidental access. Wireway carries Class 1 fire rating, maintains UV resistance and low thermal conductivity, and can be used where metallic systems are unacceptable. It is non-interfering, non-magnetic, and non-conductive.
---
Original Press Release:

New Protective Lay-In Wireway System Permits Easy Service Access


A new easy-access wireway, designed for the protection and routing of data control and power cables, has been introduced by Enduro Systems, Inc., Composite Products Division, of Houston, Texas.

Comway(TM) Lay-In-Wireway is manufactured by the pultrusion process, using special fiberglass composite designs and fire-retardant resin formulations for light weight, superior strength, durability, and corrosion resistance. A unique snap-on cover protects data control, communication and power cables from adverse atmospheric conditions (e.g., dust, dirt, oil, water) and unauthorized/accidental access. The wireway carries a Class I fire rating in accordance with ASTM Standard E-84; it maintains high UV resistance and low thermal conductivity, and can be used where metallic systems (both ferrous and non-ferrous) are unacceptable. It is non-interfering, non-magnetic and non-conductive.

The new wireway gives outstanding performance in a number of applications. For example, in computer, communication and clean-room applications, it readily conforms to the grid-post system of raised floors. In food processing plants, it is ideal for use where caustic disinfectants are necessary. In addition, for the enclosed environments of transportation/subway systems, the wireway offers enhanced public safety properties, since it can be constructed of materials with low smoke development and non-toxic smoke properties.

For more information on Comway(TM) Lay-In-Wireway, contact Enduro's Composite Sales Department, 7100 Old Katy Road, Houston, TX 77024. Phone (800) 507-0256; Fax (713) 358-4100. Email: endurosales@endurosys.com Web: www.endurocomposites.com