Wireless Video Inspection Systems have interchangeable probes.
Press Release Summary: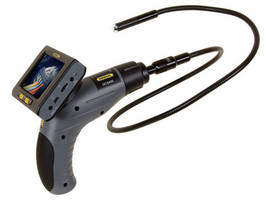 SEEKER(TM) 400 Series Wireless Video Inspection Systems include DCS400 model with 0.47 in. dia probe, DCS400-09 with 0.35 in. dia probe, and DCS400-05 with 0.22 in. dia probe. All probes are interchangeable and inspection systems feature base unit with detachable, 3.5 in. diagonal TFT-LCD color monitor for remote viewing from up to 10 m. Powered by 2 rechargeable Li-Ion batteries, products support live streaming video and capture and record still images or video in NTSC or PAL format.
---
Original Press Release:

New Seeker 400 Series Video Inspection Systems Support Live Streaming Video; Feature Interchangeable Probes



(New York, NY) The SEEKER(TM) 400 Series of Wireless Video Inspection Systems from General Tools & Instruments (General®) now includes three models that feature multiple, interchangeable camera-tipped probes and the ability to stream live video over the Internet. These exciting new models will be exhibited and available for order at General's booth (#C1082) at AHR Expo 2011, January 31 through February 2, at the Las Vegas Convention Center.

All three models in the SEEKER 400 Series (DCS400, DCS400-09, DCS400-05) are fully-featured Video Inspection Systems consisting of a standard base unit with a detachable, 3.5 in. (88.9mm) diagonal TFT-LCD color monitor enabling remote viewing from as far away as 10m (32.8 ft.). The monitor features 4x zoom and 180º image flip. All three systems include a 1m (3.28 ft.) long, close-focus (depth of field 0.5 in.to 5.0 in.) flexible-obedient camera-tipped probe that is water, oil and dust proof to IP67 standards. Optional probes are available in various lengths to extend the reach of each system. The DCS400 features a 12mm (0.47 in.) diameter probe; the DCS400-09, a 9mm (0.35 in.) diameter probe; and the DCS400-05, a 5.5mm (0.22 in.) diameter probe. The smaller diameter probes enable inspection in narrower spaces. All of the probes are interchangeable and are offered as optional accessories for any of the three units.

Designed for numerous HVAC/R applications-such as detecting leaks, inspecting corrosion and deposit buildup, and reading hidden part and serial numbers-each system in General's SEEKER 400 Series offers a cost-effective way to visually inspect inaccessible or hazardous areas and thus diagnose hidden system problems without the necessity of complete disassembly or teardown. The SEEKER 400 systems can also be used in a wide number of other applications, including inspecting buildings for mold, leaks or pests and troubleshooting engines and other inaccessible areas of motor vehicles, airplanes and marine craft. Each model in the series provides technicians, mechanics, contractors, repairmen, and even the home DIY user with a powerful and practical inspection instrument capable of recording video and still images, as well as streaming live video.

Each model in The SEEKER 400 Series allows the user not only to view live inspection video in real time, but also to capture and record either still images (jpeg) or video (avi) in NTSC or PAL format. A 2GB MicroSD Memory Card is included along with video and USB cables to connect the system to a Windows® computer or remote monitor.

Another new product, the RCV100 USB Video Receiver, wirelessly connects the SEEKER 400 models to a Windows computer, enabling video to be streamed live over the Internet via Skype® or directly viewed on the computer. The RCV100 is avaliable for separate purchase from General.

Each 400 Series system ships in a custom-molded, impact-resistant carrying case, along with a set of three accessories that can be mounted on the probe tip to facilitate inspection and retrieval. The system is powered by two rechargeable Lithium-Ion batteries. The batteries and an AC adapter/charger are also included. Each system comes with a detailed instruction manual and a three-year limited warranty. Users can choose from five available menu languages: English, Spanish, French, Chinese and Portuguese.

About General Tools & Instruments

Headquartered in New York City for nearly 90 years, General Tools & Instruments is the market leader in specialty hand tools. Its recent product developments and corporate acquisitions have expanded General's product line to include over 1,500 precision tools and hand-held instruments. This vast array of products is widely used by contractors, woodworkers, electricians, plumbers and professionals in industrial maintenance, HVAC/R, occupational health & safety and home inspection as well as DIYers and hobbyists. To learn more about General Tools & Instruments and its products, visit www.generaltools.com, or call Customer Support at 1-800-697-8665.

Contact:

Peter Harper, VP Strategic Marketing, General Tools & Instruments, 212-431-6100 x267, p.harper@generaltools.com.