Wireless Transmitter provides corrosion monitoring.
Press Release Summary: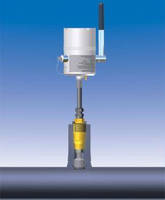 Available with Hazardous Area Certification, Microcor® Wireless Transmitter provides corrosion rates in any process media at speeds approaching real time. Unit uses high-resolution metal loss measurement, providing 18-bit resolution and operating from -40 to 70°C. Transmitter works as node in self-organizing network to ensure consistent delivery of data. In event temporary obstruction blocks direct connection, network automatically reroutes signal to adjacent device.
---
Original Press Release:

Rohrback Cosasco Systems Introduces the New Microcor® Wireless Transmitter



In keeping with its history of developing innovative corrosion management solutions, Rohrback Cosasco Systems is pleased to introduce the Microcor® Wireless Transmitter (MWT). The MWT is the culmination of more than a year of development and testing and is now available with Hazardous Area Certification.

Each MWT works as a node in a self-organizing network (mesh) to ensure consistent delivery of data. Secure, infinitely configurable, the self-organizing network ensures an adaptive, flexible approach to wireless data transfer that defies the "canyons of metal" which define most plants.

Unlike many approaches to in-plant wireless systems which require direct line-of-sight between the instrument and the communications gateway, the RCS approach ensures network integrity by allowing MWT's to communicate with each other. Because every device serves as a network connector there can be no single point of failure. In the event a temporary obstruction blocks a direct connection, the network automatically reroutes the signal to an adjacent device, ensuring network reliability and data integrity.

The MWT uses high resolution metal loss measurement providing 18 bit resolution, and is rated for operation in hazardous locations. Like its rugged predecessor Microcor which has performed well in both arctic and desert conditions, the MWT has an allowable operating range of from -40°C to 70°C.

The Microcor Wireless Transmitter offers unprecedented benefits:

o High Resolution Wireless Corrosion Monitoring

o Dramatically Lower Installation Costs

o Independent operation or seamless integration with Emerson's Smart Wireless Range of Solutions

o Operation in Hazardous Locations

o Ideal solution for hard to access areas

o Highly Secure and Reliable Self Organizing Wireless Mesh Network

o WirelessHART(TM) 7 protocol

WIRELESS OVERVIEW

The MWT is based on RCS's Microcor technology and provides corrosion rates in any process media at speeds approaching real time. Microcor online systems are in use throughout the world and have proven that accuracy and reliability can co-exist. Correlating real time corrosion rates with other process parameters enables facility operators to realize unprecedented process control related to variables such as chemical inhibitor feed. Chemical inhibitor costs can be reduced without compromising plant safety, thereby ensuring a speedy recovery of the investment in the corrosion monitoring system. Continued use provides alerts to system upsets, lengthens the time between plant shutdowns, extends overall asset life, and gives peace of mind with respect to potential environmental mishaps caused by corrosion.

For more information or pricing and delivery on the Microcor Wireless Transmitter go to www.cosasco.com or contact us directly at sales@cosasco.com.

More from Material Handling & Storage