Wireless Touch Panel features non-locking design.
Press Release Summary: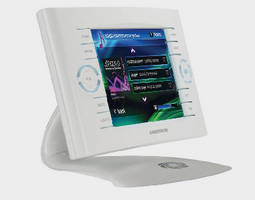 Suitable for hospitality and residential applications, 6 in. Model TPS-6XNL provides table top form factor while offering portability. While docked, unit recharges battery and communicates as wired touch panel via Ethernet or Cresnet®. High-speed Ethernet connection enables full motion video display in scalable or full-size window. By lifting panel off dock, unit automatically switches to wireless RF device, offering 2-way RF communications up to 200 ft and 1-way IR.
---
Original Press Release:

Crestron TPS-6XNL Touchpanel Now Shipping



Crestron TPS-6XNL Non-Locking Design Perfect for Hospitality and Residential Applications

ROCKLEIGH, NJ, - Crestron today announced the release of the new Crestron TPS-6XNL 6-inch wireless touchpanel, a non-locking version of the multiple award-winning TPS-6X. Just like the TPS-6X, the 6XNL provides a sleek tabletop form factor while also offering total portability. What makes the 6XNL different is there is no latching hardware, making it very simple to dock and undock. "The TPS-6XNL is perfect for users that don't require or want the panel and dock to lock together," said Vincent Bruno, Crestron Director of Marketing.

While docked, the TPS-6XNL is a wired Cresnet® or Ethernet connected panel with full-motion video display; simply lift the panel off the dock, and the panel automatically switches to a wireless RF device. TPS-6XNL features long-range, high-speed two-way RF communication up to 200 feet and 1-way IR. Sitting on the docking station, the TPS-6X is recharging its battery and communicating as a wired touchpanel via Ethernet or Cresnet. The high-speed Ethernet connection enables full motion video display in a scalable or full-size window.

The TPS-6XNL simultaneously remains connected to the RF radio while operating as a wired panel, so when the panel is removed from the dock, it instantly switches over to wireless mode. The TPS-6X operates within IEEE 802.15.4 so it does not experience any of the challenges of Wi-Fi. One-way IR communication is also built-in for direct control of various consumer devices.

The TPS-6X provides plenty of battery life to get you through the day just like any modern mobile device. TPS-6X ships with default settings to go to sleep when it's not in use to preserve the battery, and the timing can be adjusted. The TPS-6X wakes up and works immediately just by touching the screen or a button. There's no lag time; it doesn't need to connect or power up.

Illuminated pushbuttons on the TPS-6X provide quick access to volume adjustment, channel selection, and on-screen menu navigation. Button text is easily viewable in variable lighting conditions thanks to backlit laser engraving. The TPS-6X ships with both a pre-engraved backlit button bezel and a blank bezel, in luxurious black or white glossy or matte finishes.

TPS-6X features the same Isys(TM) graphic engine as all of the latest Crestron touchpanels, including dynamic text and graphics, and while docked, the 6XNL also displays full motion video in any size window or full screen.

For more information about the Crestron TPS-6XNL, go to www.crestron.com.

About Crestron

For 40 years Crestron has been the world's leading manufacturer of advanced control and automation systems, innovating technology to simplify and enhance modern businesses and lifestyles. Its integrated solutions control audio, video, computer, lights, shades, thermostats and security systems from touchpanels, keypads, remotes and mobile devices. Crestron unifies technology and communication to enhance comfort, convenience and efficiencies in homes and commercial enterprises.

Crestron manufactures all products from its World Headquarters in New Jersey, with 57 regional offices throughout North America, Europe, Middle East, Asia, Latin America and Australia.

More from Cleaning Products & Equipment