Computer and Communication Terminals
Wireless Terminal enables safe, efficient tank level measurement.
Press Release Summary: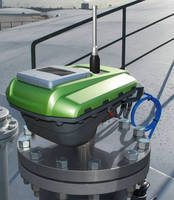 OneWireless™ Terminal Solution lets operators of oil and gas terminals increase productivity while complying with health, safety, and environment regulations. Included ISA100-compatible Honeywell Enraf SmartRadar FlexLine wireless radar gauge does not require external wireless module; integrated radio sends tank level measurements securely and wirelessly to central control room. Flexline can also collect data from local tank instruments and send data wirelessly through same ISA100 network.
---
Original Press Release:

Honeywell Announces New Wireless Technology for Safer, More Efficient Terminal Operations



OneWireless™ Terminal Solution Takes Wireless Beyond Tank Gauging



HOUSTON, TX – Honeywell (NYSE: HON) today announced its new OneWireless™ Terminal Solution, which brings together a portfolio of wireless-enabled products, services and productivity tools tailored for terminal operators, at the International Liquid Terminals Association's (ITLA) 33rd annual conference and trade show opened in Houston, Texas.



Honeywell's new OneWireless Terminal Solution enables operators of oil and gas terminals to increase their productivity while also complying with stringent health, safety and environment (HSE) regulations, all at significantly lower cost than wired technology.

"There is constant pressure on terminal operators and owners to improve productivity, efficiency, safety and security with limited capital and operating budgets. The OneWireless Terminal Solution helps enable customers to achieve these goals within their budgets," said Ray Rogowski, global marketing director, Honeywell Process Solutions. "In a competitive industry, terminal operators are investing in tank automation to meet new safety regulations as well as continuously looking for ways to manage costs. Wireless-enabled tank gauging is less expensive, at about half the cost of the wired alternative."



Unique in the industry, OneWireless Terminal Solution includes ISA100-compatible Honeywell Enraf SmartRadar FlexLine, the highest-precision wireless radar gauge available. Requiring no external wireless module, the FlexLine's integrated radio sends tank level measurements securely and wirelessly to the central control room. The Flexline is also used as a data concentrator, collecting data from local tank instruments and sending the data wirelessly through the same ISA100 network.



Taking the solution beyond tank gauging, the OneWireless Terminal Solution includes additional applications such as Honeywell's mobile productivity tools (Field Advisor, Mobile Station and Experion® Mobile Access), helping with the adoption of operator driven reliability (ODR) programs and enabling operators to complete activities more efficiently and safely. Other applications include wireless fixed and portable gas detectors and wireless video, including Honeywell's Digital Video Manager to enhance plant security and process monitoring. For a mid-size petrochemical facility, ODR and these wireless applications could generate more than $1 million in annual cost savings.



Honeywell's OneWireless Network enables all of these applications, which can be tailored to offer either ISA100-only coverage or ISA100 and Wi-Fi coverage.  Unlike competitive offerings, the OneWireless Network can implement Wi-Fi and ISA100 instrumentation coverage in a single network, realizing an additional 25% cost savings in material, installation and maintenance costs over other wireless solutions. OneWireless Terminal Solution also includes Honeywell's industry-leading engineering and after-market services.



"The viability and acceptance of wireless technology in our industry is now reaching a tipping point," said Richard Thompson, general manager-Honeywell Enraf. "Honeywell invested early on in the OneWireless product suite to allow customers to focus on their primary business, rather than the technology. With Honeywell OneWireless we can seamlessly manage the data traffic across multiple solutions and multiple wireless standards."



The OneWireless Terminal Solution will be available in the third quarter of 2013, along with the ISA100 compatible version of SmartRadar FlexLine and OneWireless™ Network R220. For more information please visit www.honeywellprocess.com



Honeywell (www.honeywell.com) is a Fortune 100 diversified technology and manufacturing leader, serving customers worldwide with aerospace products and services; control technologies for buildings, homes and industry; turbochargers; and performance materials. Based in Morris Township, N.J., Honeywell's shares are traded on the New York, London, and Chicago Stock Exchanges. For more news and information on Honeywell, please visitwww.honeywellnow.com. Honeywell Process Solutions is part of Honeywell's Automation and Control Solutions group, a global leader in providing product and service solutions that improve efficiency and profitability, support regulatory compliance, and maintain safe, comfortable environments in homes, buildings and industry. For more information about Process Solutions, access www.honeywellprocess.com.



OneWireless™ is a trademark and Experion® is a registered trademark of Honeywell International Inc.

More from Laboratory and Research Supplies and Equipment