Wireless Temperature Datalogger supports medical monitoring.
Press Release Summary: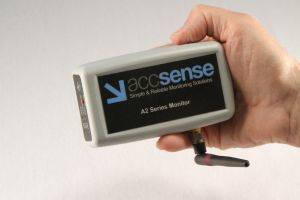 Suitable for medical refrigerator/freezer, WiFi-enabled Accsense A2-05W features inputs for 2 external RTD temperature probes with temperature range of -100 to +100°C and additional input for thermocouple measuring down to -200°C for cryogenic storage units. Datalogger supports 802.11a/b/g/n specifications as well as WEP, WPA, WPA2, 802.11i, and 802.1x Supplicant. Users can login through any Web browser to view real-time reports and graphs of data or configure system from anywhere via Internet.
---
Original Press Release:

Accsense Introduces WiFi Model of the A2-05 Temperature Pod



World-Class Medical Monitoring Goes Wireless!



CHESTERLAND OH – Do you need a temperature monitoring system to monitor product in a medical refrigerator or freezer? Today Accsense is proud to introduce the all-new A2-05W Wireless Temperature Datalogger! This WiFi-enabled version of the bestselling A2-05 Ethernet Temperature Datalogger is available at the same price with all of its powerful functionality. Accsense is a hassle-free way to go wireless and avoid the large cost and trouble of installing wiring in your facility—just Plug & Play. These 3-input pods are a cost-effective way to monitor a combination medical refrigerator/freezer unit or two storage units at distributed points. Call Accsense today at 1-800-956-4437 for more information and a representative will be glad to help you with your questions.



Plug & Play Medical Monitoring

Regulatory demands from the CDC, Joint Commission and other healthcare organizations are mandating electronic documentation of temperature data for medical storage units containing vaccines, drugs and more. With this in mind the flexible A2-05W data logger is designed for measuring temperatures in medical refrigerators, freezers, incubators, and cryogenic storage units. Each temperature datalogger has inputs for two external RTD temperature probes with a temperature range of -100°C to +100°C and an additional input for a thermocouple measuring down to -200°C for use in cryogenic storage units.



Accsense is an automated solution designed for quick installation and easy setup. Our A2-05W pod features centralized management with no software to install.



The data logger's simple operation means no expensive training sessions—just plug them into an outlet and let them run. The wireless datalogger supports 802.11a/b/g/n specifications and supports WEP, WPA, WPA2, 802.11i and 802.1x Supplicant. It's easy to configure the pod and connect it to your WiFi Network. In case of a power failure or network connection loss, the Accsense system has an internal lithium battery to keep running for 6 hours, during which the pods will continue to buffer data and store up to 256 data points or until connection is restored. This feature can pay for your new system by itself when you get an alarm at 3am notifying you that your freezer just failed!



Accsessories:

E1-50: ISO 17025 NIST-Traceable Calibration Certificate available

E1-21: Temperature Probe (RTD)

E1-34: Thermal Buffer for use with E1-21 Temperature Probe

E1-25: Cryogenic Temperature Probe (Thermocouple Type-T)



Remotely-Hosted Montoring and Alarming

Accsense has powerful alarm capabilities to increase safety measures and decrease staff response times. Users can login through any Web browser to view real-time reports and graphs of their data or configure the system from anywhere Internet connection is available, providing centralized system management and control. Users can also view multiple wired monitors from a single screen, even when installed in different remote locations!



All recorded temperature data is immediately available online using your secure Accsense Account. Updated in real time, users can access both live and historic data, create graphs, and set both local and remote alarms. Several alarm levels and contacts are supported.



Alarms can be sent by your choice of phone, email, and text message. Alarming originates from a remote server system with redundant power, so if YOUR power or Internet service fails, you will immediately receive an alarm notification. Only the Accsense hosted alarming solution offers this capability.



The Accsense Advantage

Accsense is the choice of the world's most prestigious hospitals and clinics including Boston Children's Hospital, Massachusetts General Hospital, Stanford Hospital & Clinics, UCLA Medical Center and many others. Protect your products and help ensure compliance today!



Dana Kennedy, Product Manager of Accsense, is excited about the new release: "Many of our callers with medical storage units are looking for a wireless temperature monitoring system that's easy to use and install. Accsense is very cost-effective for these applications and also sends out automated phone calls whenever temperatures go outside safe limits. For regulatory compliance and product protection, you can't get more covered than Accsense."



For more information on the new Accsense A2-05W Wireless Temperature Data Logger, additional Accsense wired and wireless systems logging other values, or to find the ideal solution for your application-specific needs, contact a CAS Data Logger Applications Specialist at (800) 956-4437 or visit the website at www.DataLoggerInc.com. Contact Information: CAS DataLoggers, Inc. 12628 Chillicothe Road Chesterland, Ohio 44026 (440) 729-2570 (800) 956-4437 sales@dataloggerinc.com www.dataloggerinc.com

More from Software