Electrical Sensors / Detectors / Transducers
Wireless Sensors enable cloud-based condition monitoring.
Press Release Summary: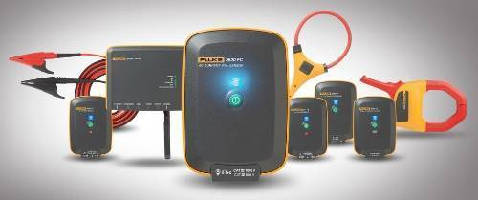 Part of Fluke Connect® reliability platform, Fluke Condition Monitoring system consists of wireless sensors and gateway that receives signals from sensors from up to 30 ft away. Voltage, current, temperature, and power sensors can be moved from asset to asset or left in place for continuous monitoring. Sensors transmit measurements to cloud as frequently as 1 measurement/sec. Equipment data and alarm notifications are viewed through Fluke Connect platform on smartphone or web browser.
---
Original Press Release:
Fluke Connect Reliability Platform Now Offers Cloud-Based Condition Monitoring
New portable wireless sensors install in minutes without retrofits or specialized labor, delivering quick ROI and increased uptime

EVERETT, Wash., -- Monitoring plant equipment is crucial to avoiding costly downtime, but it is often too expensive, impractical, or complicated to capture performance data from all critical assets. The latest addition to the Fluke Connect® reliability platform, Fluke Condition Monitoring, solves these problems with a new system of rugged voltage, current, temperature, and power sensors that can be moved from asset to asset or left in place for continuous monitoring. With Fluke Condition Monitoring, maintenance teams get a practical, scalable system that delivers the continuous data and alarms they need to prevent equipment downtime without costly equipment retrofits or specialized training.

"Adding Condition Monitoring to Fluke Connect revolutionizes maintenance workflows," said Paul de la Port, President, Industrial Group, Fluke Corporation. "One system now manages the entire process — from equipment inspection and monitoring to setting alarm thresholds and assigning repairs.

"Certain types of plant equipment have fallen outside monitoring until now; the ROI just wasn't there to retrofit with permanent sensors. The Fluke Condition Monitoring setup is so flexible and easy to install that technicians can put it wherever they need additional eyes on their equipment. And the new sensors funnel data into the same Fluke Connect reliability platform as all of our other connected test tools. With this system, technicians collect more data and engineers analyze more data in less time, with less work."

Fluke Condition Monitoring consists of wireless sensors and a gateway that receives signals from the sensors from up to 30 feet away and works seamlessly with trusted, award-winning Fluke technologies, such as iFlex® current probes, current clamps, temperature sensors and three-phase power monitoring.

Maintenance technicians can set the system up and begin monitoring in a matter of minutes, with the sensors transmitting measurements to the cloud as frequently as one measurement per second. Equipment data and alarm notifications are viewed through the Fluke Connect platform on a smartphone or web browser.

With this addition, the Fluke Connect reliability platform now compiles measurements from both the Fluke Condition Monitoring sensors and Fluke Connect wireless tools along with a history of work orders to create a comprehensive view of equipment health. The wireless, cloud-based solution overcomes legacy system silos and IT conflicts, works on any equipment type and helps teams stay effective while monitoring issues in different locations.

"The 3500 FC Series sensors operating with Fluke's already well-established IIoT platform, Connect, create a strong value proposition for manufacturers, which seek to benefit from IIoT insights without a rip-and-replace greenfield buy," said Christian Renaud, Research Director of 451 Research's Internet of Things practice. "Products that are quick and easy to install and provide simple-to-determine ROI metrics should appeal to manufacturers." 451 Research is focused on the business of enterprise IT innovation within emerging technology segments and provides timely insight to end user, service provider, vendor and investor organizations worldwide.

Fluke Condition Monitoring is available for purchase now. For a closer look, visit www.connect.fluke.com and talk to a Fluke Condition Monitoring specialist.

Fluke Corporation
For information on Fluke tools and applications, or to find the location of a distributor, contact Fluke Corporation, P.O. Box 9090, Everett, WA USA 98206, call (800) 44-FLUKE (800-443-5853), fax (425) 446-5116, e-mail fluke-info@fluke.com or visit the Fluke Web site at www.fluke.com.

About Fluke
Founded in 1948, Fluke Corporation is the world leader in compact, professional electronic test tools and software for measuring and condition monitoring. Fluke customers are technicians, engineers, electricians, maintenance managers, and metrologists who install, troubleshoot, and maintain industrial, electrical, and electronic equipment and calibration processes.

Fluke is a registered trademark of Fluke Corporation. For more information, visit the Fluke website.

For more information:
Dan Wright
Communications Manager
(425) 446-5638
dan.wright@fluke.com
More from Services