Electrical Sensors / Detectors / Transducers
Wireless Sensor System prevents reversing vehicle accidents.
Press Release Summary: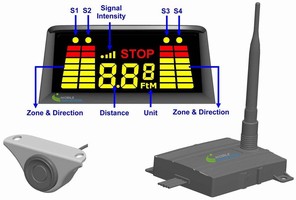 Activated automatically upon reversing, Mobile Awareness MA-WPSS-4M17 Wireless Parking Sensor System helps prevent backing accidents by visually and audibly alerting drivers to objects behind their commercial vehicle. Waterproof sensors, accurate to ½ in., provide real-time location of obstacle within 4 individual areas behind vehicle. Furthest end location of vehicle can be adjusted to compensate for overhanging objects, and system can detect sensors located on more than one trailer.
---
Original Press Release:

Mobile Awareness Releases Wireless Parking Sensor System for Commercial Trucks with Trailers



[CLEVELAND, OH - December 17, 2007] Mobile Awareness, LLC announces the release of a new Wireless Parking Sensor System geared toward Commercial Trucks with Trailers, Utility Vehicles, Buses and RVs.

Commercial vehicle owners now have an effective means to help prevent backing accidents that can often result in personal injury, property damage and increased insurance expense. Activated automatically when reverse gear is engaged, the driver is alerted to objects behind their vehicle with both an audible (active) and visual indicator (LED display). The waterproof sensors work in all weather conditions and provide the location of an obstacle (Zone Discrimination) within four (4) individual areas behind the vehicle, accurate to within ½".

Based on a design optimized for long vehicles such as commercial trucks pulling trailers, the Mobile Awareness MA-WPSS-4M17 Wireless Parking Sensor System has features not readily found on other backing systems. By example, the Truck & Trailer Exchange function allows a truck equipped with the Warning Display Unit (WDU) to detect the ECU/Sensors located on more than one trailer. "We wanted to provide a solution for the trucking industry that facilitated the exchange of trailers," remarked Gary Rothstein, president of Mobile Awareness. "The WDU can be matched with other ECU/sensors installed on additional trailers. It's as simple as holding the setting button when reverse gear is engaged to identify and connect with the new trailer."

Developed using a leading-edge wireless technology, the system is economical to install and maintain. The waterproof sensors and ECU (Electronic Control Unit) mount with just 10 screws and two wires connected to the backing lights. The dash mounted Warning Display Unit (WDU) only requires a power and ground connection to complete the installation.

Other unique features include the ability to adjust the furthest end location of the vehicle due to overhanging objects such as a trailer hitch or extended bumpers (Stop-line Adjustment). Additionally, the monitor displays all zones simultaneously in real-time and includes a wireless signal strength meter.

Rothstein concludes, "There are many advantages to utilizing an active backing sensor system that complement other safety devices such as our reversing cameras (passive monitoring). At times when the driver is not viewing the video monitor, the audio from the parking sensor system can bring attention to an unforeseen object or individual behind their vehicle."

About Mobile Awareness

Cleveland, Ohio based Mobile Awareness, LLC(TM) designs and markets leading-edge transportation safety products. The company provides accident prevention solutions for commercial transportation professionals. For more information, please contact Mobile Awareness, Toll Free: 866-653-5036 or visit www.MobileAwareness.com

Mobile Awareness...Reducing the Total Cost of Safety(TM)

More from Controls & Controllers