Electrical Sensors / Detectors / Transducers
Wireless Sensor enables smart machines and materials.
Press Release Summary: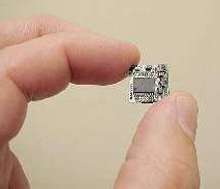 Small enough to be embedded in products, EmbedSense(TM) data acquisition system uses inductive link to receive power from external coil and to return digital strain, temperature, and unique ID information. Nodes can be placed within implants, on spinning machinery, and within composite materials. Tags can read data from multiple types of sensors, and RFID Transponder coils are available in various form factors. Operating frequencies are 125 KHz and 1 MHz.
---
Original Press Release:

MicroStrain's EmbedSense Wireless Sensors Enable Next Generation Smart Structures, Machines, & Materials


Williston, Vermont MicroStrain Inc announces the availability of the miniature EmbedSense(TM) wireless sensor. EmbedSense is a tiny wireless sensor and data acquisition system that is small enough to be embedded in a product, enabling the creation of smart structures, smart materials and smart machines.

EmbedSense will enable a new generation of smart structures and smart materials. These tiny nodes can be placed within implants, on spinning machinery and within composite materials. Because they can tolerate extreme G levels and high temperatures, sensor measurements can be made in applications where previously no data could be obtained.

Batteries are completely eliminated which means that the embedded sensors and EmbedSense node can be queried for the life of the structure. EmbedSense uses an inductive link to receive power from an external coil and to return digital strain, temperature and unique ID information.

"This is an exciting evolution for sensors. We are working on applications that range from monitoring the healing of the spine, to testing strains and temperatures on jet turbine engines", says Steve Arms, President of MicroStrain Inc. "EmbedSense enables a new generation of smart structures and smart materials, the possibilities are endless."

EmbedSense tags can read data from multiple types of sensors, including thermocouples, strain gauges, pressure sensors and load cells.

RFID Transponder coils are available in a wide variety of form factors. Typical costs for transponder coils are 50 cents each. The EmbedSense operating frequencies of 125 KHz and 1 MHz are popular for RFID and are well served by a number of coil suppliers.

Over-molded surface mount packages, axial through hole format (molded or sleeved) and free- standing windings are available.

About MicroStrain Inc.

MicroStrain is a privately held corporation based in Williston Vermont. MicroStrain produces smart, wireless, microdisplacement, orientation and strain sensors. Applications include advanced automotive controls, health monitoring/inspection of machines and civil structures, smart medical devices and navigation/control systems for unmanned vehicles. www.microstrain.com

Contact information:
MicroStrain, Inc.
Steven Arms
Tel: 802 862 6629
sales@microstrain.com

More from Test & Measurement