Wireless Security System uses battery-free sensors.
Press Release Summary: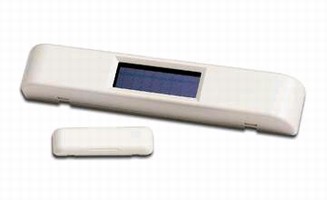 Combination of STM250 self-powered magnetic proximity sensor with LVRX-4 low-voltage relay receiver enables home and building owners to optimize existing entry/exit security equipment. Communicating via 868 MHz RF band, 4-channel receiver is plugged into open input on security control panel, while solar-powered sensor and wireless transmitter are integrated into monitoring point. LVRX-4 connects to STM250 with ID-learn-sequence that stores transmitter IDs in EEPROM.
---
Original Press Release:

Batteryless/Wireless Security Solution Introduced by EnOcean & Ad Hoc Electronics



Boston MA and Lindon UT (USA) - May 18th 2006 - EnOcean, Inc., global pioneer in energy-harvesting wireless technologies, has partnered with Ad Hoc Electronics to enable its award-winning self-powered magnetic proximity sensor for retro-fit security installations. The combination of Ad Hoc's new LVRX-4 low-voltage relay receiver and the STM250 system enables home and building owners to enhance their existing entry/exit security equipment using reliable wireless, battery-free sensors.

This unique collaboration of self-powered window/door contact switch with relay receiver box lets users add security coverage to additional rooms, remodels, unattached buildings, even cabinets or movable assets within those buildings. Installation is simple: the LVRX-4 receiver is plugged into an open input on the security control panel, while the self-powered STM250 magnetic proximity sensor and transmitter are integrated into the monitoring point. The magnetic contacts attach via tape or screws, just like conventional contacts.

"Last fall, EnOcean took the security market by storm, with our pioneering introduction of magnetic contact technology that required absolutely no wires and no batteries," said Jim O'Callaghan, Vice President of EnOcean. "However, the product was designed specifically for integration with new products. Now, LVRX-4 makes STM250 suitable for use with existing products and systems. The LVRX-4 allows the STM250 wireless security sensors to be used to extend nearly any new or existing security installation."

"Ad Hoc brings years of RF experience and a thorough understanding of security and home automation to the STM250 product equation," added Jan Finlinson, Vice President of Ad Hoc Electronics. "By combining our LVRX-4 with the maintenance-free STM250 system, EnOcean promises its customers in the security industry dependable operation for decades to come."

STM250 Overview
Packed into a small 110 x 19 x 15 mm device - similar to a standard doorbell - STM250 is a solar-powered, magnet-contact sensor combined with an embedded RF transmitter. The device requires only ambient indoor light to power itself continuously, as well as to store backup energy for up to six days use in total darkness. It gathers energy via its tiny solar cell, which generates enough output power to communicate throughout an entire house.

The unit's wireless transmitter will send a signal up to 300 meters outdoors or 30 meters indoors. To ensure dependable communication, STM250's suite of sophisticated RF protocols includes multiple broadcasts, fast data rates, error detection and unique addressing. Signals are transmitted immediately when the contact is opened or closed. A periodic presence signal is sent to indicate that the node is operating properly.

LVRX-4 Overview
LVRX-4 is a four-channel low voltage relay receiver device used to connect wireless switches and sensors to existing security systems. The 130 x 70 x 29 mm unit communicates via the 868MHz RF band and attaches to the sensor input terminals of existing security control panels. Status LEDs reassure the user that security signals are constantly being received.

LVRX-4's relay output channels continuously mirror the status of STM250. The relays can be linked either to magnetic proximity door or window sensors, or to wall-mounted or handheld push switches. LVRX-4 connects to STM250 with a simply ID-learn-sequence that stores transmitter Ids in EEPROM, so that the LVRX-4 knows which devices are connected to which relay output. Each output can be controlled by up to 15 transmitters.

STM250/LVRX-4 will serve either as ready-to-install equipment for security system contractors, or as an OEM-level product for integration into doors and windows at the factory. Thanks to its intrinsic stability, it can even be permanently embedded inside impossible-to-reach places, such as between panes of window glass. The complete system is available directly from Ad Hoc Electronics. All proprietary radio technology featured is approved for use in Europe (ETSI), US (FCC) and Canada (IC).

For additional information or resources, please visit the following pages online:

Landing page: www.adhocelectronics.com/lvrx_release
Press Release: www.adhocelectronics.com/site/press/LVRX-4_Press_Release_Wireless_Security-5-18-06.pdf
LVRX data sheet: http://www.adhocelectronics.com/site/press/LVRX-4_Datasheet.pdf
LVRX high resolution photo: http://www.adhocelectronics.com/site/press/LVRX-4_Photo_HR.jpg
STM250 data sheet: http://www.adhocelectronics.com/site/press/STM250_Datasheet.pdf
STM250 high resolution photo: http://www.adhocelectronics.com/site/press/EnOcean_STM250_1.jpg

About EnOcean www.enocean.com
EnOcean's groundbreaking technology enables wireless sensors and switches to operate without batteries or external power sources. These self-powered modules convert energy from light, push-buttons, vibration, or temperature gradients into useable electrical energy. The company's advanced power management architecture enables the operation of sensors and radios off miniscule amounts of available energy. End products are employed in a diverse range of market segments: building automation, industrial manufacturing, security, and automotive. Headquartered in Oberhaching, near Munich, EnOcean GmbH was founded in 2001 as a spin-off from Siemens AG.

About Ad Hoc Electronics AdHocElectronics.com
Ad Hoc Electronics is a system integrator and distributor of wireless data transmission products, providing companies with the products and expertise they need to add wireless capability to their own systems and devices. The company integrates and distributes industry-leading products to provide OEMs with turnkey wireless solutions for applications in sensor, controls and networking markets.

More from Packaging Products & Equipment