Wireless Router Enclosure suits home or office installations.
Press Release Summary: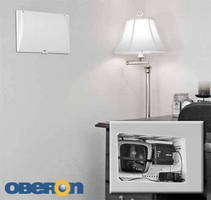 Model WRBOX Wireless Router Box, suited for organizing wireless routers and broadband modems in small offices or homes, is manufactured with ABS plastic that is transparent to wireless signal. Measuring 14 x 9 x 4 in., enclosuret can be flush-mounted by cutting opening in wall or ceiling and attaching to studs, or it can be surface-mounted using wall anchors. Two universal electronics brackets with hook and loop straps are included for mounting routers or modems.
---
Original Press Release:
Oberon, Inc. Announces New Wireless Router Box for Home and Office
State College, PA - On the heels of the announcement of Oberon's entry into the individual office market, the company has announced a further addition to its telecom enclosure offerings, the Wireless Router Box. Oberon, Inc., a leading manufacturer of commercial wireless and telecommunications enclosures, has added the ICC product to its catalog as a complement to its new, versatile Home and Office Network Cabinet. Both cabinets provide a way for smaller offices to conveniently wall mount networking components, making the products useful both in individual offices in a large corporate setting and for small office and home environments. Where the Oberon Home and Office Network Cabinet provides ample room for a variety of networking components, the Wireless Router Box features a compact profile and the option to install the box either flush to the wall with a simple drywall cutout or on the surface of the wall. Oberon's Wireless Router Box is ideal for organizing smaller wireless routers and broadband modems. The WRBOX is made of ABS plastic that is virtually transparent to the wireless signal. This 14" x 9" x 4" deep box can be flush-mounted by cutting an opening in the wall or ceiling and attaching to studs or surface-mounted using appropriate wall anchors. The WR-BOX includes two universal electronics brackets with hook and loop straps for mounting a wireless router and a broadband modem or other components. The box's low 4" profile allows the box to be mounted just about anywhere in the home or office. For more information on secure, convenient, and aesthetic wireless access point and telecommunications enclosures, please call 1-877-867-2312 or see the Enclosure Selection Guide at oberonwireless.com/selection-guide.php. ABOUT OBERON, INC. - Since 1999, Oberon, Inc. has been providing products and services to integrators and end users of wireless LAN "Wi-Fi" network products. Oberon's wireless enclosures and antenna products are used where the RF coverage, infrastructure security, environmental robustness, and aesthetics are paramount in the network design and implementation. Oberon offers ceiling-mounted telecommunications enclosures for Ethernet switches, patch panels, wireless controllers, and other networking and A/V components - ideal for structured cabling and Fiber-to-the-Enclosure (FTTE) deployments. Oberon's products and services have helped thousands of integrators and end-users in the global healthcare, government, transportation and logistics, education, retail, hospitality, and manufacturing achieve reliable indoor network connection mobility. For more information regarding this press release, please contact Sharon Sobieszczyk at 814-308-5017 x708 or sas@oberonwireless.com.
More from Explosives, Armaments, and Weaponry