Wireless RFID Reader accepts multiple Bluetooth inputs.
Press Release Summary: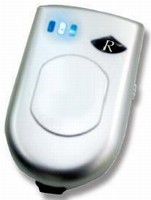 Featuring software that allows for up to 4 Bluetooth reader inputs on one PC/laptop, palm-sized Class II Bluetooth RFID Reader series is available in 125 kHz, 134 kHz, and 13.56 MHz frequencies. Software is ready for use for PCs that have Bluetooth adaptor, or are otherwise Bluetooth-enabled, and runs on most Windows operating systems. Reader is compatible with most types of RFID cards; has data transmission range over 10 m; and continuously reads tags up to 7,000 times/charge.
---
Original Press Release:

GAO RFID Releases Unique Software for RFID Bluetooth Reader



Toronto, Canada - GAO RFID (http://www.GAORFID.com) has developed and recently released unique, new, multiple-input software for its series of Class II Bluetooth RFID Readers. The software is ready for use for PCs which have a Bluetooth adaptor or are otherwise Bluetooth enabled and runs on most Windows Operating systems including XP and Vista. In its current version the software allows for up to four Bluetooth reader inputs on a single PC or laptop computer - this is a first for RFID Bluetooth reader software. This software makes GAO's Bluetooth reader an ideal choice for applications such as access control for event management for example.

The palm-sized RFID Reader itself is available in three frequencies: 125 kHz, 134 kHz and 13.56 MHz. The wireless Bluetooth based RFID devices are compatible with most types of RFID cards, have a data transmission range of over 10 meters and have a long battery life - continuously reads tags up to 7000 times per charge. These readers also work with WinCE 5.0 or Windows Mobile 5.0/6.0 based SmartPhones or PDAs; however the multi-input software for these devices is still under development.

About GAO RFID Inc.
GAO RFID Inc. is a leading provider of Radio Frequency Identification (RFID) hardware and solutions to end users worldwide. GAO RFID combines best of breed with low cost RFID readers, RFID tags and enabling-RFID software. We have a wide variety of RFID readers, tags and antennas in all the RFID technologies, Low Frequency (LF), High Frequency (HF), Ultra High Frequency (UHF, Gen 2) as well as Active and Semi-Passive. GAO RFID's products and services are easily customized for use in Asset Tracking, Health care, Supply Chain & Logistics, Event Management, Access Control, Livestock Tracking, Inventory Control & Management, Field Service, Maintenance and Document Authentication.

For further information on these readers see: http://www.gaorfid.com/index.php?main_page=advanced_search_result&keyword=bluetooth+reader&search_in_name=1&rpp=25
GAO RFID Inc. is a member of GAO Group, GAOGroup.com, which also includes
o GAO RFID Inc. - www.GAORFID.com
o GAO Tek Inc. - www.GAOTek.com
o GAO Research Inc. - www.GAOResearch.com
o WowGao Inc. - www.WowGao.com
o GAO RFID Asset Tracking - www.GAORFIDAssetTracking.com
o GAO Embedded - www.GAOEmbedded.com
o GAO Instruments - www.GAOInstruments.com
o GAO Comm - www.GAOComm.com
o GAO Fiber Optics - www.GAOFiberOptics.com

More from Machinery & Machining Tools