Wireless Power Receivers accelerate cooler, efficient charging.
Press Release Summary: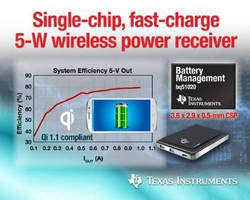 As 3.6 x 2.9 x 0.5 mm, single-chip, 5 W receivers supporting WPC Qi 1.1 standard, bq51020 and bq51021 achieve up to 96% power efficiency and allow charging of Qi-compliant mobile phones, tablets, power banks, and other portable electronics. Programmable output voltage up to 8 V and low on-resistance MOSFETs reduce power loss. I²C interface, included with bq51021, lets designers implement foreign object detection, and pad-detect feature that facilitates alignment of receiver with charger.
---
Original Press Release:

Fast-Charge Wireless Power Receivers Cut Power Loss by 50 Percent



TI's ultra-small 5W receivers enable faster, cooler and more power efficient charging for Qi-enabled smartphones and other portable electronics



DALLAS -- Texas Instruments (TI) (NASDAQ: TXN) today introduced the industry's most power-efficient 5-watt wireless power receivers that support the Wireless Power Consortium (WPC) Qi 1.1 standard. TI's new bq51020 and bq51021 allow consumers to charge their Qi-compliant mobile phones, tablets, power banks and other electronics faster, cooler and more efficiently compared to other available wireless power solutions. To order samples and a development kit, visit: www.ti.com/bq51020-pr.



Available to ship in volume today, the bq51020 and bq51021 single-chip receivers feature a programmable output voltage up to 8 V and low on-resistance MOSFETs to reduce power loss by as much as 50 percent, compared to existing solutions in the market. The bq51021 features an I2C interface, which allows system designers to implement foreign object detection and a unique "pad-detect" feature that makes aligning the receiver with the charger easierfor a better user experience.



Features and benefits of bq51020 and bq51021:



--  Highest efficiency for faster, cooler wireless charging: Achieves up to 96 percent power efficiency, and an adjustable output voltage helps reduce power loss by as much as 50 percent; and reduces temperature rise by 35-percent compared to other solutions.

--  Single-chip 5-watt receivers: Provide rectification, regulation, and digital control and communications to support the Qi 1.1 specification.

--  Ultra-small, thin solutions: 3.6-mm by 2.9-mm by 0.5-mm single-chip wireless power receiver achieves a solution size of 75 mm(2) without the need for an inductor.



The new receivers join the bq51221, which TI introduced in February as the industry's first dual-mode 5-W wireless power receiver to support Qi and the Power Matters Alliance (PMA) specifications. TI also recently released the bq51003 2.5-W receiver for small portable and wearable applications. With these additions to the portfolio, designers can now order the bq51020EVM-520, bq51221EVM-520 and bq51003EVM-765 evaluation modules to get started on wireless power designs.



TI and wireless power

TI's wireless power management products enable innovative, efficient wireless charging capabilities for mobile phones, tablets and other portable electronics, and wireless power charging transmitters ranging from stand-alone charging pads to those embedded in cars and furniture. The company offers the most extensive portfolio of power integrated circuits that support WPC's Qi standard. TI also is a member of the Alliance for Wireless Power (A4WP) and PMA.



Availability and pricing

The bq51020, bq51021, bq51221 and bq51003 wireless power receivers are available now in volume production through TI and its worldwide network of authorized distributors. All three receivers come in a 42-ball, 3.6-mm by 2.9-mm by 0.5-mm chip scale package at a suggested resale price of US$2.50 for the bq51020, US$2.70 for the bq51021 and US$3.00 each for the bq51221 in 1,000-unit quantities. The low-power bq51003 receiver comes in a 28-ball, 1.9-mm by 3.0-mm chip scale package at US$1.30 each in 1,000-unit quantities.



Find out more about TI's wireless power solutions:

--  Check out TI's comprehensive portfolio of wireless power solutions.

--  Download the new white paper, "Adapting Qi-compliant wireless power solutions to low-power wearable products."

--  Join the TI E2E(TM) Power Community to search for solutions, get help, share knowledge and solve problems with fellow engineers and TI experts.



TI analog for personal electronics

TI's broad range of power management and analog signal chain products offers design engineers the high performance, low power and integration they need to create innovative and differentiated personal electronics. TI is engineering the future with touch feedback, advanced battery charging, audio, health technology and more. Learn how analog products improve how we live, work and play with TI analog solutions for personal electronics.



About Texas Instruments

Texas Instruments Incorporated (TI) is a global semiconductor design and manufacturing company that develops analog ICs and embedded processors. By employing the world's brightest minds, TI creates innovations that shape the future of technology. TI is helping more than 100,000 customers transform the future, today. Learn more at www.ti.com.



Trademarks

TI E2E is a trademark of Texas Instruments. All registered trademarks and other trademarks belong to their respective owners.



CONTACT: Matt McKinney, Texas Instruments, 214-567-2493, m-mckinney1@ti.com, or Madison Lax, GolinHarris, 972-341-2538, mlax@golinharris.com

More from Optics & Photonics