Electrical Sensors / Detectors / Transducers
Wireless Position Monitor extends plant safety, performance.
Press Release Summary: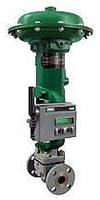 Leveraging WirelessHART(TM) communications, Fisher® 4320 monitors and provides accurate position feedback from equipment such as valves, regulators, louvers, displacement and float level sensors, and relief valves in standard and hazardous area locations. Linkage-less device, adaptable to almost any application where percent of span is desired, employs non-contacting rotary and linear monitoring. SmartPower(TM) battery life is rated from 5-10 years.
---
Original Press Release:

Emerson Announces WirelessHART(TM) Fisher® Position Monitor, Extends Safety and Performance Gains from Smart Wireless Solutions



Innovative wireless and linkage-less monitor delivers previously unavailable equipment position data to improve plant performance and safety

MARSHALLTOWN, IOWA (October 21, 2009) - Emerson Process Management announces expansion of its Smart Wireless solutions family with the release of the Fisher® 4320 wireless position monitor. Beyond its wireless advantages, the 4320 monitor is the first and only linkage-less device to provide accurate position feedback. The 4320 monitor uses industry standard WirelessHART(TM) communications.

Most process plants have hundreds, or even thousands, of valves that are not connected to the control system because of high wiring costs. These valves currently provide no feedback on their actual positions, even though incorrectly positioned valves represent a significant cause of safety-related incidents. Unfortunately, users have typically not been able to access the position data that is valuable to the performance and safety of their plant.

The Fisher 4320 wireless position monitor changes the economics since it represents only 10% to 20% of the installed cost of a wired solution. The wireless monitor installs and commissions quickly, providing users with a cost-effective way to access the information.

The Fisher wireless device monitors equipment such as valves, regulators, louvers, displacement and float level sensors, and relief valves in standard and hazardous area locations. With its patented non-contacting rotary and linear monitoring, the 4320 is adaptable to almost anything where a percent of span is desired.

The 4320 wireless position monitor is part of Emerson's broad range of intelligent, digital field devices that power the PlantWeb® architecture to improve plant efficiency by 2% and more through delivering asset optimization, process automation, and management execution. Like other devices in the Emerson Smart Wireless family, the 4320 position monitor has secure and reliable performance. The position monitor has a 5- to 10- year SmartPower(TM) battery life and is fully compatible with existing Smart Wireless networks.

Emerson's Smart Wireless solution is an extension of the PlantWeb digital plant architecture, combining highly reliable, smart monitoring devices with wireless transmitters in an innovative self-organizing mesh network that automatically adapts as device points are added or removed, or obstructions encountered.

The Smart Wireless family offers solutions for field instrumentation and plant operations. The Fisher position monitor is part of wireless solutions for field instrumentation. The family also includes the TopWorx(TM) 4310 Wireless Position Monitor which wirelessly detects rotary or linear movement, and also monitors on/off status of valves and sliding-stem regulators, safety relief valves and more. Other wireless devices include Rosemount transmitters and analytical and Machinery Health(TM) Management devices, and native wireless interfaces to AMS(TM) Suite predictive maintenance software, DeltaV(TM) or Ovation® digital automation systems, and SmartStart(TM) Services.

Smart Wireless solutions for plant operations use industrial Wi-Fi devices for applications such as connecting disparate field networks, communicating with mobile workers, tracking people and/or mobile assets, and video monitoring.

For additional information on the Fisher 4320 wireless position monitor, see the brief 4300-series wireless position monitor video at www.emersonprocess.com/videos/TechDemos_Wireless.asp, or go to www.emersonprocess.com/Fisher, or contact an Emerson Process Management sales office and request brochure part no. D351612X012.

About Emerson Process Management

Emerson Process Management (www.emersonprocess.com) an Emerson business, is a leader in helping businesses automate their production, processing and distribution in the chemical, oil and gas, refining, pulp and paper, power, water and wastewater treatment, food and beverage, life sciences and other industries. The company combines superior products and technology with industry specific engineering, consulting, project management and maintenance services. Its brands include PlantWeb®, Syncade(TM), Fisher®, Micro Motion®, Rosemount®, Daniel®, DeltaV(TM), Ovation®, and AMS® suite.

About Emerson

Emerson (NYSE:EMR), based in St. Louis, Missouri (USA), is a global leader in bringing technology and engineering together to provide innovative solutions to customers through its network power, process management, industrial automation, climate technologies, and appliance and tools businesses. Sales in fiscal 2008 were $24.8 billion and Emerson is ranked 94th on the Fortune 500 list of America's largest companies. For more information, visit www.Emerson.com.

PlantWeb, Syncade, Fisher, Micro Motion, Rosemount, Mobrey, Daniel, DeltaV, Ovation, and AMS are marks owned by one of the legal entities of Emerson Process Management. Other marks are property of their owners.

CONTACTS:
John Wells, Emerson Process Management, Fisher
(1) (641) 754-3288, John.Wells@Emerson.com

Lisa Eisenbrey, Emerson Process Management
1 (512) 834-7106, Lisa.Eisenbrey@Emerson.com

More from Software