Wireless Monitors suit hazardous locations.
Press Release Summary: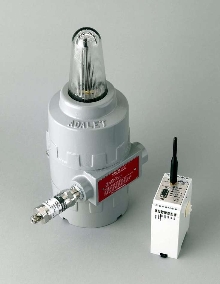 Explosion-proof ac and dc Wireless Systems offer continuous monitoring and transmission of 4-20 mA, temperature, and pressure signals out of Division 1 area to safe area, eliminating need for conduit and cable runs in hazardous locations. NEMA 4X version is available for non-explosion-proof applications where waterproof protection is required. Units offer range up to 3,000 ft with no line of sight. Transmit power is 1 mW to 1 W and data transmit interval is 1-60 sec.
---
Original Press Release:

Adalet Wireless Offers Continuous Wireless Monitoring In Hazardous Locations


Cleveland, OH, December 1, 2004 - Two new explosionproof wireless systems have been added to the Adalet Wireless family of products. Joining the recently introduced battery powered wireless system are an AC and a DC powered system which are designed for continuous monitoring and transmission of 4 to 20mA, temperature, and pressure signals out of a Division 1 area to a safe area, eliminating the need for costly conduit and cable runs in hazardous locations. A NEMA 4X version is also available for non-explosionproof applications where ruggedized, waterproof protection is required.

Adalet Wireless systems are an innovative, cost cutting solution for transmitting temperature, pressure, or other data signals in explosionproof Division 1 or industrial areas. Hazardous location wiring is extremely expensive or totally unfeasible in many applications. Adalet Wireless products eliminate the need for expensive conduit and wires in hazardous or any industrial location.

This major innovation by Adalet will enable many new, creative applications in Class I, Division 1 and industrial locations. Activities such as data collecting, sensor monitoring, and process control, previously unthinkable because of constraints with hard wiring, are now possible with the Adalet Wireless link. The process control engineer can now implement solutions never before available.

The Adalet Wireless system come complete with either an Adalet explosionproof Division 1 or NEMA 4X enclosure, signal conditioning for thermocouple, RTD, or pressure transducer inputs, radio transmitter and antenna. A receiver unit is also included which can be installed in any of Adalet's cast aluminum, fiberglass, or stainless steel enclosures.

Features:
o Approved for Class I, Division 1 or industrial locations
o Signal conditioning for 4 to 20mA, thermocouple, RTD, or pressure transducer inputs
o Range: Up to 3000 feet with no line of sight
o Easy to use, AC or DC powered transmitter, no set up or programming required
o Data transmit interval set at factory in the range of 1 to 60 seconds
o Frequency Hopping Spread Spectrum technology (minimal interference operation)
o License free 902-928 MHz ISM band
o Factory selected transmit power in the range of 1mW to 1W
o Safety blue powder coating for Division 1 applications and ANSI grey for NEMA 4X applications
o Available inputs: 4 to 20mA, thermocouple, RTD, or pressure transducer
o Available outputs: RS-232, 4-20mA, 0-5V
o Glass dome for maximum RF signal transmission and visual inspection of status LED's
o Two ¾" NPT hubs for connection to temperature or pressure sensors


Applications:

o Tank level

o PLC / RTU extensions		o Mills / quarries / factories

o Pump control			o Sensor monitoring

o Waste / wastewater		o Utilities

o Oil & gas			o Irrigation systems

o Petrochemical
XDANT - Explosionproof Enclosure     N4DANT - NEMA 4X Enclosure

     AREAS OF USE                           AREAS OF USE

Division 1 Classified Areas         Industrial and general purpose 

     -U.S., Canada		              areas

o Class I, Division 1, Groups B, C, D

o Class II, Groups E, F, G

o Class III

o Zone 1 Classifications - U.S. and Canada
APPLICABLE DESIGN STANDARDS			APPLICABLE DESIGN STANDARDS

o UL Standard 1203  				o UL Standard 50   

o CSA Standard C22.2 No. 30			o CSA Standard C22.2 No. 94

o NEMA 4X, 7BCD, 9EFG				o NEMA 4X

Canada: CSA-E79-0 & CSA-E79-1				

U.S.: ANSI/UL60079-0, ANSI/UL60079-1

Model AW wireless systems approval to UL-60950-1 (pending)

Adalet Wireless, A division of Adalet / Scott Fetzer Company (a subsidiary of Berkshire Hathaway), is a leading manufacture of industrial wireless systems. The company holds certification under ISO-9001-2000 International Standards for Quality Management. Adalet Wireless markets a broad line of industrial wireless systems which include rugged NEMA 4X or explosionproof Class I, Division 1 wireless systems, battery powered wireless systems, DIN Rail mounted wireless systems, and AC or DC powered wireless systems.

For more information contact:
Adalet, 4801 West 150th Street, Cleveland, Ohio, 44135, USA
Tel: 216-267-6864; Fax: 216-267-1681; Email: info@adaletwireless.com
Website: www.adaletwireless.com

More from Sensors, Monitors & Transducers