Wireless Monitors operate in 4 modes.
Press Release Summary: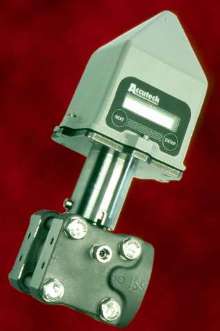 FM-approved, Wireless Field Units transmit differential pressure, orifice flow, open channel flow, and level readings to control center at regular intervals. Utilizing FHSS communications, 900 MHz ISM license-free units offer transmission range up to 3,000 ft and assure complete security. Sensors are available in 5 ranges, from ±100 in. H
2
O, to 300 psi differential, all at 2000 psi max static pressure and with accuracy to ±0.1%.
---
Original Press Release:

Accutech Introduces New Wireless Field Units for Level Monitoring in Tank Farms, Filter Monitoring, Strainer Basket Monitoring and Flow Reading, Among Other Applications


Wireless Technology Reduces Installation Costs Up to 90%, Providing Same Accuracy, Dependability & Durability as Conventional Wired Systems

HUDSON, MA (July 2, 2004) - The purchase and installation of wireless process monitoring and control instrumentation at savings of 90% or more can now be achieved with new, dependable,
accurate and durable wireless differential pressure field units from Accutech. The field units can be operated in any one of four modes, transmitting differential pressure, orifice flow, open channel flow and level readings at regular intervals to a control center.

With a transmission range of up to 3,000 feet, a battery life of up to 5 years (batteries are economically priced at $15), these easily installed, FM approved, Class 1, Division 1 units open new horizons to process plant operations seeking or needing to add flexible new measurement or supplement existing monitoring capabilities. The 900 MHz ISM license-free units assure complete security, with frequency-hopping spread spectrum (FHSS) communications technology. Wireless instrumentation products are more easily installed than traditional gauges, in as little as an hour from start to finish. Further, they can be conveniently integrated into a process operation's existing controls.

The transceiver units from Accutech offer the benefit and flexibility to readily and quickly be installed with bolt-on brackets precisely where they are needed. Thus, the units can be situated in the most remote locations where wired units are too expensive or impractical for the application. Data from the units is wirelessly transmitted back to a Base Radio where information is then fed into the plant control system.

The sensors are available in 5 ranges, from ± 100 inches H20, differential to 300 PSI differential, all at 2000 PSI maximum static pressure and with an accuracy to ± 0.1%. A wireless differential pressure field unit and Base Radio can be purchased for as little as $2,595.

Accutech is known for offering a broad range of microprocessor measurement, monitoring, and control instrumentation (called Smart Process Instrumentation) for a wide range of industries
including refining, petrochemicals, chemicals, plastics, oil and gas production, municipal water treatment, food and beverage, pharmaceutical and others. Their extensive experience in robust instrumentation has been applied to the industry's first line of packaged wireless monitoring solutions.

For more information on the new wireless differential pressure units, contact: Jennifer Rogers, Marketing Department, Accutech, 577 Main Street, Hudson, MA 01749. Tel: (978) 568-0500. Fax: (978) 568-9085. Web Site: savewithaccutech.com.
E-mail: accutech@adaptiveinstruments.com

More from Materials