Wireless Monitoring Systems offer automatic data transfer.
Press Release Summary: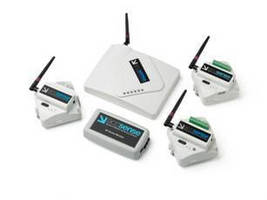 With Accsense Wireless Monitoring Systems, users can set up automatic reports to be emailed to them or sent over FTP. Users can receive data on regular schedules so they never miss potentially critical change in data. As soon as temperature goes outside safe limits, Accsense alarms send automated phone calls, texts, and emails. All data goes out to Web where cloud-based storage enables users to view reports and graphs in real-time after logging in through any Web browser.
---
Original Press Release:

Accsense Adds New Automatic Data Transfer Feature



Now Receive Automated Reports via Email or FTP!



CHESTERLAND OH — CAS DataLoggers has now added a new capability to its Accsense Wireless Monitoring Systems which lets users setup automatic reports to be emailed to them or sent over FTP. In response to the high demand for this feature, now users can receive their data on regular schedules so they never miss a potentially critical change in their data. We're offering this feature at an inexpensive price—call us to learn more about how Accsense can help protect your products today!



Since we setup this option directly from our servers, it's easy for our wireless users to request these data downloads and keep on top of changes in their product, equipment or controlled environment. For example, users can use this feature to push the data to them once a week, and can also choose to send the report to multiple approved designees.



Accsense alarms send automated phone calls, texts and emails as soon as your temperature goes outside your safe limits. This is a hassle-free way for staff to respond the moment that temperatures (inside medical fridges and freezers for example) go out of specification, offering unmatched safety and convenience.



Our plug-and-play Accsense systems require next to no IT involvement and no training courses--just plug them in and let them record. All your data goes out to the Web right away where our cloud-based storage lets you view it in real time. Just login through any Web browser to view reports and graphs or configure the system from anywhere an Internet connection is available.



For a wired solution, our Accsense Ethernet Temperature Data Loggers support Power over Ethernet for a lower cost and easier maintenance than traditional wiring so you don't need a wireless gateway. Each temperature monitor has inputs for external sensors including 2 RTDs and a thermocouple and provides you with a power adapter and Ethernet cables. With Accsense, you're also covered in the event of a power failure or network connection loss--our Ethernet temperature dataloggers keep running for another 6 hours on their internal lithium batteries so they keep buffering data through the outage.



Additionally, these devices are completely secure since each data logger only sends its temperature data along with a timestamp. Unlike many other systems on the market, Accsense systems don't attach patient data so you'll never have a privacy concern.



CAS DataLoggers has provided its Accsense medical monitoring systems for many healthcare and academic institutions including Stanford Hospital and Clinics, the Cleveland Clinic Foundation, and New York Hospital Queens, among many others.



For more information on our wired and wireless Accsense temperature monitoring systems, which store all your data on the cloud in real time, contact a CAS Data Logger Applications Specialist at (800) 956-4437 or visit the website at www.DataLoggerInc.com.

Contact Information:

CAS DataLoggers, Inc.

12628 Chillicothe Road

Chesterland, Ohio 44026

(440) 729-2570

(800) 956-4437

sales@dataloggerinc.com

www.dataloggerinc.com

More from Sensors, Monitors & Transducers