Wireless Monitor provides plug-and-play functionality.
Press Release Summary: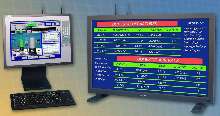 Wireless Monitor System allows full XGA video resolution of 1024 x 768 @ 30 frames/sec over wireless link utilizing 802.11a protocols. It replaces KVM cables with wireless RF communications link and interfaces with any remote computer up to 100 ft away. Unit uses Advanced Encryption Standard for secure transmission of audio and streaming video data. Modular systems are available with 15, 20, 30, and 40 in. diagonal LCDs.
---
Original Press Release:

Wireless Monitors from TFS Provide the Ultimate in Information Display Flexibility


Plug-and-Play Monitor Products Make Wireless a Reality for Any Application

TEMPE, AZ - May 2004 - Three-Five Systems, Inc. (NYSE: TFS), a global provider of electronics manufacturing services and display solutions, has introduced a new family of wireless monitors and display systems. The wireless monitor products are the first of their kind to be commercially available, allowing full XGA (1024x768 @ 30 frames/sec) video resolution over a wireless link utilizing industry-standard 802.11a protocols. With the new TFS Wireless Monitor System, any information display application can now go wireless.

The TFS Wireless Monitor System effectively replaces the cables for the keyboard, video and mouse (KVM) on a standard PC with a wireless RF communications link. A wireless transmitter is connected to the PC through standard analog VGA, keyboard, mouse and audio inputs. At the KVM end, the keyboard, mouse and audio speakers are attached to a wireless receiver embedded in the LCD monitor housing. It is completely plug-and-play, requiring no new operating system, drivers or application software.

Wireless products also allow greater flexibility in expanding existing systems. Increased flexibility is of particular benefit to the industrial marketplace, where multimedia applications have historically been limited by complex, mandatory cabling. Other benefits include reduced power consumption, simplified IT maintenance, and improved security.

"TFS is proud to be the first to offer wireless displays suitable for the industrial and medical marketplace," said Sriram Peruvemba, General Manager, Large Monitors and Displays Division. "We are continuing in our long tradition of offering our customers innovative flat panel display systems while providing unbeatable customer service and support."

Incorporated into the system is patent-pending wireless technology developed by Avocent Corporation (Nasdaq: AVCT), a leading worldwide supplier of KVM switching, remote access and serial connectivity solutions.

"TFS brings great value to customers who desire highly integrated wireless display solutions. Together with TFS, we are providing a solution that makes it much easier for customers to expand their existing systems - without complex wiring issues," said Rick Moore, Senior Vice President, Avocent Corporation.

The Wireless Monitor System interfaces with any remote computer up to 100 feet away. It uses Advanced Encryption Standard (AES), a standard for secure transmission of audio and streaming video data. These modular systems are available with 15-inch, 20-inch, 30-inch and 40-inch diagonal LCDs, with a wide range of custom configurations also available.

The Wireless Monitor System is ideal for a variety of information display applications. Units with the 30-inch or 40-inch displays are particularly well-suited for signage or narrow-casting (Public Information Display Systems) in settings such as airports, restaurants, sporting venues, or tradeshow events. The 20-inch display can easily be incorporated into industrial control room work stations where the computer is at a remote location for environmental/security control. It is applicable at power plants, process control centers (Human Machine Interfaces), telecom operator rooms, or semiconductor manufacturing sites where extensive cabling might be required. The compact 15-inch units are a good match for kiosks,
point-of-sale, retail, medical, gaming, and other single user applications.

Wireless TFT monitor demo units are currently available. Touchscreen and USB connectivity will be introduced in the future. Demo units are priced starting at $1,500 each, depending on model, size and configuration. Contact TFS for more details.

For more information, please contact Leisha Stevens, Strategic Sales Manager, TFS, 257 Simarano Drive, Marlborough, MA 01752. Call (508) 485-3380 or e-mail leisha.stevens@tfsc.com; Web: tfsc.com

About TFS: TFS is a global provider of end-to-end electronic manufacturing services and display solutions. TFS provides a wide range of ruggedized monitors and flat panel displays, specializing in the design and integration of complex high-resolution display systems. TFS offers a variety of display products and services including: OEM custom design and integration, rack and panel mount systems, touch screens, a variety of electrical and mechanical interfaces, cosmetic customization, and ruggedized flat panel and CRT displays.

Three-Five Systems, Inc. and the TFS logo are trademarks or registered trademarks of TFS.

More from Computer Hardware & Peripherals