Wireless Medical-Grade Foot Switches come in 1- or 2-pedal models.
Press Release Summary: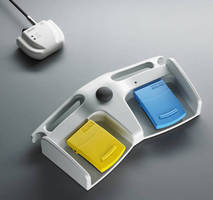 Used to control medical devices, wireless foot switches use globally accessible, 2.4 GHz, frequency-hopping protocol for optimal stability. Standard 1- and 2-pedal models are available; pushbuttons are optional. Other features include standard packaged or PCB- Receiver, USB Stick Receiver, up to 14 digital and 3 analog control functions, and multiple options. Sleep-mode, <200 msec wake-up time, and real-time battery charge status monitoring extend battery service life.
---
Original Press Release:

Field-Proven Wireless Medical-Grade Foot Switches



Since 2004, Steute has pioneered the development of wireless foot switches for medical applications, with thousands installed worldwide controlling radiology systems, ophthalmic surgery equipment, surgical microscopes, patient tables and other devices.



These units are designed with their proprietary, globally-accessible, 2.4 GHz frequency-hopping protocol. This bidirectional, 32 RF-channel protocol changes transmission frequency 200 times per second... providing extreme reliability in both surgical and therapeutic medical applications. Sleep-mode, fast wake-up time (< 200ms), and real-time battery charge status monitoring extend battery service life and facilitate efficient power management.



Features:

Complies with all FDA wireless guidelines and FCC requirements.

Standard one and two-pedal models, with optional pushbuttons available.

Standard packaged or PCB- Receiver available

USB Stick Receiver available

Digital and analog control functionality

Rechargeable Lithium battery

Ingress protection up to IP X8

User programmable sleep mode function

Mechanical life expectancy: > 1 million operations

Modular approvals for: North America, Europe, Japan



Options:

Custom colors/graphics

Inadvertent operation protection

Foot rests

Carrying handles

LEDs

Custom foot switches with other actuator choices (e.g. rocker switches, joysticks, joypads, et al)

Custom Receiver designs

Custom wireless hand-held controls



Typical Applications:

High-frequency surgical equipment

Ophthalmology

PHACO surgery systems

Surgical microscopes

Ultrasonic diagnostic systems

MRI systems

X-Ray equipment

Orthopedic surgery equipment

Endoscopic surgical equipment

Wound management systems

Examination tables/chairs

Dental equipment

Biopsy systems



Steute's broad range of ergonomically-optimized, medical-grade foot switches can be custom-configured to meet the OEM's specific application needs.... without incurring any engineering or tooling costs. Available with up to 14 digital and 3 analog control functions. CE, cCSAus and FCC compliant.



For additional information and complete specifications on the full line of Foot Switches, go to www.SteuteMeditech.com.



Contact:

Maurizio Lauria

Telephone: (203) 244-6302



STEUTE Meditech, Inc.

901 Ethan Allen Highway, Suite 102

Ridgefield, CT 06877

USA

Telephone: (203) 244-6302

Website: www.SteuteMeditech.com

E-Mail: info@SteuteMeditech.com

Related