Wireless LAN Device is suited for indoor and outdoor use.
Press Release Summary: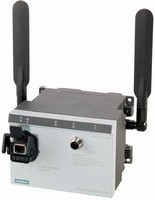 Designed for industrial use on factory floor, Scalance(TM) W wireless LAN provides access points, client modules, and management tools. Device supports 802.11a, b, and g WLAN WiFi standards. For security, WPA and AES for 128-bit encryption are supported. Access points can be deployed as self-contained fat units, or in thin configuration, with access points working in conjunction with central controllers from numerous suppliers.
---
Original Press Release:

Siemens Scalance W Offers Unique Wireless LAN Solution



ATLANTA, August 29, 2006 -- Siemens Energy & Automation, Inc. today announced its entry into the enterprise network market with the Scalance(TM) W wireless LAN, a family of rugged, wireless LAN products that make it simple to install, operate and manage a secure enterprise WLAN - including outdoors.

Scalance W is a complete wireless product family, providing access points, client modules and management tools, all with the enterprise-ready security features that WLAN customers demand.

Siemens designed the Scalance W family for industrial use on the factory floor, where configurations demand flexibility in deployment. As such, Scalance W access points are self-enclosed devices that provide the utmost deployment flexibility - perfect for even the most challenging indoor and outdoor enterprise configurations.

"Siemens Energy & Automation believes the experience we have gained in some of the world's most demanding industrial environments will serve us well as we deploy products for enterprise use," says Raj Rajani, Siemens Ethernet infrastructure product marketing manager. "We expect enterprise customers will be pleasantly surprised at the simplicity, security, dependability and performance of the Scalance W family."

Rooted in Standards
Scalance W supports a range of WLAN WiFi standards, including:
o 802.11a, for operation up to 54M bit/sec in the 5 GHz band
o 802.11b, for speeds up to 11M bit/sec at 2.4 GHz
o 802.11g, for speeds up to 54M bit/sec at 2.4 GHz

For security, the Scalance W supports the WiFi Protected Access (WPA) specification and the Advanced Encryption Standard (AES), for 128-bit encryption, along with MAC address filtering.

Scalance W supports the standard Point Coordinated Function (PCF) protocol as well as Industrial PCF (iPCF), which offers predictable response times and roaming times of less than 50ms.

Customers can deploy Scalance W access points either as self-contained "fat" units that provide all transmission, security and management functions, or as "thin" access points that work in conjunction with central controllers from numerous suppliers.

The thin configuration allows for more flexibility in deployment, along with centralized administration, management and security. The thin scenario can reduce the possibility of configuration errors while also lowering total cost of ownership by simplifying network upgrades and ongoing maintenance.

"Because of its rugged construction, Scalance W is ideal for outdoor applications where a thin client is required," Rajani said. "The markets that benefit from this technology range from education and transportation to any industry needing seamless coverage."

Scalance W also offers a high level of management control over traffic patterns, with a patented Quality of Service (QoS) solution that gives preference to traffic from critical clients.

True to its industrial roots, Scalance W access points are housed in an enclosure that can withstand harsh environments in terms of vibration, extreme temperatures, dust and water. The devices can also be mounted virtually anywhere, inside or out.

For more about Scalance W log on to automation.usa.siemens.com/scalance.

About Siemens
Siemens Energy & Automation, Inc. is one of Siemens' operating companies in the U.S. Headquartered in the Atlanta suburb of Alpharetta, Ga., Siemens Energy & Automation manufactures and markets one of the world's broadest ranges of electrical and electronic products, systems and services to industrial and construction market customers. Its technologies range from circuit protection and energy management systems to process control, industrial software and totally integrated automation solutions. The company also has expertise in systems integration, technical services and turnkey industrial systems. For more information: www.sea.siemens.com.

Siemens AG (NYSE:SI) is one of the largest global electronics and engineering companies with reported worldwide sales of $96 billion in fiscal 2005. Founded nearly 160 years ago, the company is a leader in the areas of Medical, Power, Automation and Control, Transportation, Information and Communications, Lighting, Building Technologies, Water Technologies and Services and Home Appliances. With its U.S. corporate headquarters in New York City, Siemens in the USA has sales of $18.8 billion and employs 70,000 people throughout all 50 states and Puerto Rico. Eleven of Siemens' worldwide businesses are based in the United States. With its global headquarters in Munich, Siemens AG and its subsidiaries employ 460,000 people in 190 countries. For more information on Siemens in the United States: www.usa.siemens.com.

CONTACT:
Michael Krampe
(770) 751-2211
[email protected]

Steve Bender
(865) 288-0156
[email protected]