Wireless Finger Pulse Oximeter is compatible with Apple® iOS.
Press Release Summary: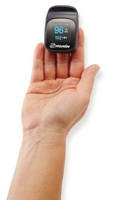 Featuring PureSAT® pulse oximetry technology, NoninConnect™ Elite Model 3240 measures arterial blood oxygen saturation and pulse rate to help clinicians and their patients with challenging respiratory conditions to proactively identify issues for early intervention. Bluetooth® Smart wireless technology lets clinicians remotely view, up to 32 ft, patients' SpO
2
readings in real-time, and SpO
2
history can be checked/saved/shared using NoninConnect iOS mobile app on compatible Apple devices.
---
Original Press Release:

Nonin Medical® Introduces Apple® iOS-compatible NoninConnect(TM) Elite Model 3240 Bluetooth® Smart Wireless Finger Pulse Oximeter



Highly accurate, easy-to-use wireless oximeter designed to help clinicians and patients proactively identify issues for early intervention and avoid re-hospitalization



MINNEAPOLIS -- Nonin Medical, Inc., the inventor of finger pulse oximetry and a leader in noninvasive medical monitoring, today announced it has globally launched the NoninConnect(TM) Elite Model 3240 Bluetooth® Smart wireless finger pulse oximeter for clinicians and their patients.



The NoninConnect Elite measures arterial blood oxygen saturation and pulse rate and features Nonin's clinically proven PureSAT(®) pulse oximetry technology. The device is designed to help clinicians and their patients with challenging respiratory conditions like COPD to proactively identify issues for early intervention and avoid re-hospitalization. (An oximeter prescription is required for patients in the U.S.)



"Making the right decision for patients who have COPD and complicating co-morbidities such as CHF often depends on getting an accurate oxygen saturation reading," said Rick Eagle, vice president of sales for Nonin Medical.



"We've known for some time that not all FDA-cleared pulse oximeters perform alike on all patients," he added.



"However, a new independent hypoxia lab study on humans, which simulated COPD patient conditions, demonstrates that Nonin's PureSAT pulse oximetry technology captures and reports worsening patient conditions better than other FDA-cleared oximeter brands," Eagle said.



"These findings are significant for clinicians who want a pulse oximeter that is going to be accurate, reliable and cost effective for all patients, including very sick patients like those with COPD," Eagle said.



Easy to Use, Easy to Share

The NoninConnect Elite uses state-of-the-art Bluetooth Smart (low energy) wireless technology to allow clinicians to remotely (up to 10m/32 ft) view their patients' SpO(2) readings in real time. Clinicians and patients can easily save or share their SpO(2) history via e-mail, using the NoninConnect iOS mobile app on their compatible Apple device. Patients are able to share spot-check readings via Apple's Health app. Compatible devices with the NoninConnect Elite and NoninConnect app include: iPhone® 4S and newer, iPad® 3 and newer, all iPad Air and iPad Minis, and the iPod® Touch 5th edition and newer (with Apple iOS 8.1 or newer installed).



The NoninConnect EliteAdvantage

--  Provides SpO(2) and pulse rate readings from small to large fingers, good to poor perfusion and dark to light skin tones

--  Provides simplified pairing for vital information exchange over a secure wireless connection

--  Long battery life: Up to 2,200 spot checks on two AAA batteries

--  Two-year warranty

--  RoHS and REACH compliant and environmentally friendly with no lead or hazardous materials

--  Made in the USA



For more information about the NoninConnect Elite Model 3240 Bluetooth Smart wireless pulse oximeter, visit nonin.com/NoninConnectElite. The NoninConnect pulse oximetry software application can be downloaded free from the App Store in the Apple iTunes Store.



For more information about the new hypoxia lab study, visit nonin.com/documents/ClinimarkFingertipWhitePaper.pdf.



About Nonin Medical, Inc.

Nonin Medical, Inc. invented the finger pulse oximeter (the original Onyx® brand) and designs and manufactures noninvasive medical monitoring solutions that meet customers' technology needs today and tomorrow. Headquartered in Plymouth, Minn., USA, with an additional customer service center in Amsterdam, the Netherlands, Nonin Medical sells its pulse and regional oximeters, capnographs, sensors and software to health professionals and consumers in more than 125 countries. The company has more than 300 OEM partners worldwide. For more information, visit nonin.com.



CONTACT: Melanie Stanek, 1-763-577-5514, melanie.stanek@nonin.com

More from Fluid & Gas Flow Equipment