Wireless Ethernet I/O Modules can be controlled remotely.
Press Release Summary: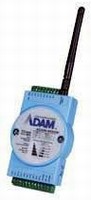 Equipped with embedded JAVA web page, digital ADAM-6000W series uses wireless Ethernet standard 802.11b and supports Modbus/TCP and UDP protocols. Models ADAM-6050W/6051W/6060W feature inputs that can be configured to read frequency signal and act as counter, latching input, or normal input. Outputs can be configured as pulse, delayed, and standard outputs. Each unit allows 8 simultaneous web clients for remote viewing of I/O status and control.
---
Original Press Release:


Advantech Launches Wireless Ethernet I/O Modules




(Cincinnati, Ohio - 11/17/2005) - The Industrial Automation Group of Advantech introduces the ADAM-6000W series wireless Ethernet digital I/O modules equipped with an embedded JAVA web page for remote status and control.

The ADAM-6050W, ADAM-6051W, and ADAM-6060W meet many diverse applications as they are equipped with numerous features and functions known as Smart I/O. The inputs can be configured to read a frequency signal, act as a counter, latching input or normal input. The outputs can be configured as pulse outputs, delayed outputs, and standard output. The output modules have a built-in communications watchdog which allows each output channel to be set to a known state if communication is lost. The user friendly interface allows for simple changes to the embedded JAVA web page without requiring JAVA programming knowledge. The units allow eight simultaneous web clients for viewing I/O status and control, if needed.

The ADAM-6000W series I/O modules use a wireless Ethernet standard IEEE802.11b as it is the most popular wireless network. They support Modbus/TCP and UDP protocols. These units handle industrial power and can be din-rail or panel mounted. The I/O design is suitable for applications such as building automation, environmental monitoring, production monitoring, and facility management.

The ADAM-6000W series are available for purchase directly from Advantech or from one of Advantech's North American distributors at eAutomationPro.com/us/.

Advantech Corporation, Industrial Automation Group - Founded in 1983, the Industrial Automation Group of Advantech Corporation is the only complete PC-based Industrial Automation Solution Manufacturer offering products such as Industrial PCs, Workstations, Panel PCs, Flat Panel Monitors, Heavy Environmental PCs, Customized PCs, Single Board Computers, Data Acquisition & Control Devices and Web-enabled products for a wide array of industries. Drawing on the talents of more than 1,800 people, Advantech operates an extensive sales and marketing network in 16 countries and 35 major cities to deliver fast time-to-market services to our worldwide customers. Today Advantech offers over 700 products and solutions, adding 30 new products each year. US operations for the Industrial Automation Group are based in Cincinnati, OH (877-294-8989). Advantech Corporation, Industrial Automation Group, 1320 Kemper Meadow Drive, Suite 500, Cincinnati, OH 45240. Website for Advantech customers in North America: eAutomationPro.com/us/ Email: info@advantech.com

Chuck Harrell
Advantech Corporation, Industrial Automation Group
(513) 742-8895 x333
website: eAutomationPro.com/us/


More from Electronic Components & Devices