Wireless Electronic Level delivers precise measurements.
Press Release Summary: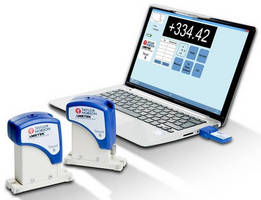 Reading of angle of tilt and measurements relative to gravity with accuracy of 0.2 arc sec over center measuring region, Talyvel 6 interfaces directly to touchscreen computer and can be used in wireless mode. Unit weighs <1 kg, can be positioned remotely for hard-to-see or confined spaces, and incorporates pendulum-type transducer. OSD shows live measurement figures, and sequential measurements are tabulated on screen and can be saved to file.
---
Original Press Release:

Taylor Hobson Introduces Talyvel 6 Wireless Electronic Level for Precision Angular and Level Measurement



Latest Version Unveiled at Quality Expo 2013, McCormick Place, Chicago, Booth # 117, 10-12 September 2013.



WEST CHICAGO, IL— Taylor Hobson, a global leader in ultra-precision measurement instrumentation, unveils the latest addition to its line of industry-leading Talyvel electronic levels at Quality Expo 2013, Chicago, September 10-12. The newly designed Talyvel 6 interfaces directly to a touch screen computer and can be used in wireless mode for complete flexibility.



Talyvel electronic level systems provide versatile and precise measurement for a wide variety of industrial, civil, marine and optical engineering applications. Talyvel levels combine exceptional accuracy, stability and repeatability with fast response and convenience and are universally accepted as the best in the industry.



Weighing less than one kilogram, the Talyvel 6 in wireless mode affords users flexibility along with versatility and accuracy. It offers rapid and simple reading of angle of tilt and measurements relative to gravity and it is simple to calibrate and operate with a fast measurement response time.



Offering unmatched accuracy of 0.2arc second over the center measuring region, the Talyvel level unit can be positioned remotely for hard to see or confined spaces. It incorporates a pendulum-type transducer that provides exceptional measurement stability.



The Talyvel 6's built-in electronics allows the unit to interface directly to dedicated PC software with simple button-driven touchscreen operation.  A large on-screen display shows the live measurement figures. Sequential measurements are tabulated on screen and can be saved to a file.



In civil engineering, the Talyvel 6 can remotely monitor the tilt movement of structures, check bridge arches for movement before or after construction, or check for foundation settlement. It also can be used to check the level and straightness of rails and platforms. The Talyvel 6 has applications in machine tools for checking slideways for straightness and twist, columns for squareness to slideways, and surface plates for flatness. It also can measure camber on rolls and settlement of large machines.



Among its most common uses is to check the flatness of granite and cast-iron tables. Aboard ships, it can be used to measure the twist of marine engine bed plates and the parallelism of crankpins, to main bearings or marine crankshafts. Used for measuring straightness, flatness or absolute level, the Talyvel 6 also can function as a comparator to detect departures from a preset altitude that may not necessarily be level.



Taylor Hobson Precision is a leading manufacturer of ultra-precision measurement instrumentation for a variety of markets, including optics, semiconductors, hard disk drives and nanotechnology research.  It is a unit of AMETEK, Inc, a leading global manufacturer of electronic instruments and electromechanical devices, with annual sales of more than $3.3 billion.



For more information on Talyvel electronic level, contact Graham Anderson by e-mail at graham@spectrum-metrology.co.uk or by telephone at +44 (0) 116 276 6262. For information on Taylor Hobson's complete line of ultra-precision measurement instruments, contact Taylor Hobson, 1725 Western Drive, West Chicago, IL 60185, USA.  Tel:  630-621-3099.  Fax:  630-231-1739.  E-mail: sales@taylorhobson.us  Web site:  www.taylor-hobson.com

More from Services