Wireless Driveway Monitor with Talking Receiver Announces Visitors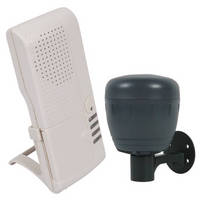 The Wireless Battery Driveway Monitor with 4-Channel Voice Receiver (STI-V34150) detects when a vehicle enters or leaves a protected driveway. Ideal for home or office, it uses a patented magnetometer sensor system. Movement of any large metallic (iron or steel) object close to the driveway sensor triggers a signal from the transmitter to the indoor receiver, causing the receiver to sound a voice message. 



STI's voice receiver offers ten tones/tunes and 53 selectable words (in English or Spanish). Up to four tones/tunes or words can be programmed to identify driveway status (i.e. driveway alert, front driveway motion, etc.). It is able to receive up to four signals from additional transmitters.



People, animals and shadows will not trigger the driveway sensor. The sensor may be placed as far as 1000 feet (line of sight) away from the receiver in your home. Installation is easy. Just mount the sensor next to the driveway and plug the receiver into any indoor electrical wall outlet. Solar model also available.



A variety of STI wireless transmitters are available and can be used with the voice receiver. Monitor a mailbox, garage door, indoor or outdoor motion, shed, door, window, gate, cabinet, etc.



To order or for more information on the STI Wireless Battery Driveway Monitor with voice receiver (STI-V34150) or the entire Stopper® Line, call 800-888-4784, fax 248-673-1246, email info@sti-usa.com or visit www.sti-usa.com. STI's address is: 2306 Airport Road, Waterford, MI 48327-1209.



More from Textile Industry Products