Wireless Device Servers eliminate hardwired connections.
Press Release Summary: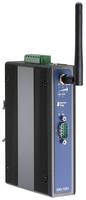 Providing connectivity to portable equipment and mobile assets in plants, warehouses, and industrial facilities, EKI-1351 (1-port) and EKI-1352 (2-port) allow RS-232/422/485 devices to be remotely monitored, managed, and controlled wirelessly. Both 802.11b/g device servers can be used in peer-to-peer manner as well as client and server modes. They incorporate COM-port redirection software and support TCP/IP- as well as UDP/IP-aware applications that support serial encapsulation.
---
Original Press Release:

Advantech Extends Device Server Family with 802.11b/g Wireless Models



(Cincinnati, Ohio - 11/06/08) - The Industrial Automation Group of Advantech introduces the EKI-1351 (1-port) and EKI-1352 (2-port) 802.11b/g Device Servers. These new models allow most any RS-232/422/485 serial device to be remotely monitored, managed, and controlled wirelessly, eliminating the need for hardwired cable connections

"Listening to our customers, we realized the need for connectivity to portable equipment and mobile assets in plants, warehouses, and large industrial facilities," said Paul Wacker, Product Manager for Industrial Communications at Advantech. "The EKI-1351 and EKI-1352 give equipment OEMs and end-users a quick and easy mean's to add wireless capabilities to wired devices and equipment, facilitating real-time access to information locked within them."

Device Servers are a drop-in solution to add network connectivity to non-networked devices and equipment. With one connection for the network, and the other for attached RS-232/422/485 serial devices, Device Servers encapsulate serial data for transport over Internet Protocol (IP) networks. Used together in pairs as an extension cable for serial devices, or separately with a host computer or PC, Device Servers are an ideal solution to overcome the inherent distance limitations and point-to-point nature of serial devices.

Transparent Access to Serial Devices
For easy integration with COM-port based Windows(TM) applications, included COM-port redirection software allows virtual COM-port access to remote serial devices, just as if they were onboard COM-ports. With this tool, integration with PC-based systems takes just a few minutes, and it's transparent to the host application software and connected equipment.

In addition to Virtual COM-port operation, the EKI-1351 and EKI-1352 support TCP/IP and UDP/IP aware applications like OPC Servers and HMI systems that support serial encapsulation. For simple applications, these units can be used in a peer-to-peer manner, where there's no need for wireless infrastructure or access points. For more advanced applications, both client and server modes are supported, in support of serial device initiated or host initiated communications.

Advanced Operating Modes, and Multi-Access
Where one-to-many or many-to-one connections are required, Multi-Access mode allows a single RS-232/422/485 serial device to send or receive data to multiple remote hosts. This is particularly important in applications where multiple PC-based system need access to a single serial device for shared access, or where replacing systems that rely on a hardwired serial bus-type architecture.

Ruggedized for Industrial Applications
Like other EKI Industrial Ethernet family products, these 802.11b/g Wireless Device Servers are packaged in a compact and thin, DIN-rail mount chassis. Ruggedized for demanding industrial applications, these units offer 4,000 VDC Ethernet ESD protection, dual 12 to 48 VDC power inputs to maximize uptime, and power line surge (EFT) protection of 3,000 VDC.

"Wireless LAN enterprise infrastructure, which is increasingly common on the factory floor, extends the value of device servers." noted ARC Advisory Group's Harry Forbes. "With WLAN in place, wireless device servers like these new Advantech products are easily installed at the local equipment. This gives manufacturers improved plant floor visibility with a far simpler installation process."

To purchase or if you have any questions, please contact Advantech at 1-800-205-7940 or your regional Advantech authorized dealer for more information.

Advantech Corporation, Industrial Automation Group - Founded in 1983, the Industrial Automation Group of Advantech Corporation is a pioneer in eAutomation technology; combining connectivity, flexibility and ruggedness with today's most reliable PC-based automation technologies. Product offerings include: Open HMI platforms, Industrial Ethernet, Automation Controllers, Automation Software, Embedded Automation Computers, Distributed I/O Modules, Plug-in I/O, and Industrial Communication solutions for a wide array of industries. With more than 20 years experience in providing a full range of products to different vertical markets, the Industrial Automation Group is proving to be a globally leading Automation Product and Services provider. US operations for the Industrial Automation Group are based in Cincinnati, OH (800-205-7940). Advantech Corporation, eAutomation Group, 1320 Kemper Meadow Drive, Suite 500, Cincinnati, OH 45240. Website: www.advantech.com/ea. Email: eAinfo@advantech.com.