Wireless Data Loggers monitor vaccine temperature.
Press Release Summary: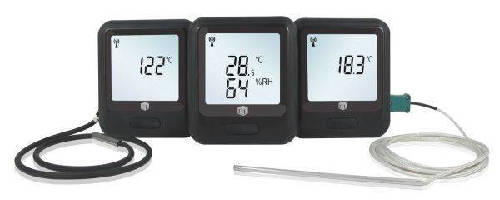 Comprising standalone USB and WiFi-enabled sensors, Lascar EasyLog Series allows accurate and continuous vaccine temperature monitoring exceeding CDC guidelines. FilesThruTheAir™ Cloud service unlocks EL-WiFi data loggers from PC, allowing users to communicate with temperature monitoring system from smartphone, tablet, or PC. Data loggers are supplied with glycol bottles, calibration certificates, and magnetic clips for mounting to refrigerator.
---
Original Press Release:

Lascar Introduces Vaccine Monitoring Dataloggers



Vaccination Temperature Recorders Exceed CDC Guidelines



CHESTERLAND OH – The Lascar EasyLog family of wireless data loggers is a low-cost series of standalone USB and WiFi-enabled sensors allowing accurate and continuous vaccine temperature monitoring. Exceeding CDC guidelines on temperature data loggers used for vaccination storage, these sensors are supplied with glycol bottles, calibration certificates and magnetic clips for mounting to a refrigerator. CAS DataLoggers provides these products along with FREE technical support—call us today at (800) 956-4437.



Medical Monitoring Solutions:

EL-USB-TP-LCD

The EL-USB-TP-LCD is a handheld, battery-powered temperature data logger that measures and stores temperature readings onboard until its data is downloaded via USB. Setup is easy--the user just plugs the device into a PC's USB port. Using Lascar's FREE configuration software, users name the device, choose a sampling rate, select High and Low alarms, and set a logging start time.



EL-GFX-DTP

The EL-GFX-DTP+ is a dual-channel temperature data logger which stores over 250,000 readings, has an onscreen display showing Max, Min and last log, as well as an onboard graph of the data collected. Buttons allow the user to start, stop and restart the logger, and alarm breaches can be registered with both LED and audible alarms. The logger can be battery-powered or used with a USB wall adapter. The logger's two channels allow users to simultaneously measure two areas of a refrigerator or a refrigerator and freezer at high accuracy.



EL-WiFi-TP+

The EL-WiFi-TP+ logger allows remote temperature data collection over a WiFi network. Using Lascar's FilesThruTheAir™ Cloud Service, users can remotely view multiple EL-WiFi data loggers in multiple locations from any internet-enabled device. Change your settings, access 'Event Logs' for a record of any past triggered alarm events, and graph sensor data online. You can also set up email alerts which will notify you as soon as an alarm event happens.



Cloud-based Storage:

Lascar's new FilesThruTheAir™ Cloud service takes EL-WiFi data loggers to a new level, unlocking them from the PC and allowing you to communicate with your temperature monitoring system from a smartphone, tablet or PC. Monitor conditions, change sensor settings and keep on top of your product on the go! This FREE service is a great way for clinics, hospitals and pharmacies to view real-time data on the Cloud at a price point anyone can afford!



Lascar's new FilesThruTheAir™ cloud service enables you to:




Access from Your Mobile Device: View data in real time and change all sensor settings from any web-enabled device including smartphones, tablets or computers.



Receive Email Alerts: You'll get instant email alerts whenever your preset temperature limits are breached, as well as warnings for a low battery, AC mains disconnection, or probe malfunction.



Store Data Online: No more hunting around for hardcopy records or PC files—with Lascar products all your data is automatically uploaded to your Cloud account!



Monitor Multiple Sites: Get remote access to several locations, all from one device!



Give Multiple Users Secure Access: Cloud-based storage means that your data is protected, secure and limitless. You can link sensors from multiple sites in one account to give multiple users access to the Cloud.



The data logger's sensor automatically collects temperature data while the WiFi router sends it to the cloud for storage. This way, data collection, alarming, storage and accessibility are all automated for your convenience. For users who want to send their data online without investing a lot of time or money, FilesThruTheAir™ is the ideal solution. Send your data to the Cloud today with Lascar dataloggers!



For more information on Lascar's low-cost Temperature data loggers and the FREE FilesThruTheAir™ cloud service, contact a CAS Data Logger Applications Specialist at (800) 956-4437 or visit our website at www.DataLoggerInc.com.



Contact Information:

CAS DataLoggers, Inc.

12628 Chillicothe Road

Chesterland, Ohio 44026

(440) 729-2570

(800) 956-4437

sales@dataloggerinc.com

www.dataloggerinc.com