Wireless Clock eliminates disruption and need for conduit.
Press Release Summary: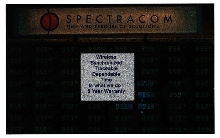 TimeView(R) 210 Wireless Clock requires in house radio or paging system, Spectracom NetClock(R) Master Clock, and TimeBurst(R) to inject high accuracy burst of time data into radio broadcast. It is able to synchronize enterprise computer networks within every server and client, all within enterprise firewalls.
---
Original Press Release:

Spectracom Launches World's First Wireless Display Clock - Synchronized To The U.S. Atomic Clock


East Rochester, N.Y., March 18 2002-At the NMW 2002 trade show Spectracom, the leading provider of time and frequency solutions, launched the innovative TimeView® 210 Wireless Clock in a show stopping "Wall of Clocks"--see picture.

In launching this unique product Spectracom has answered the problem of providing high accuracy display clocks-without the legacy of conduit, wires and disruption.

"We believe that the TimeView 210 reflects the innovation, technology and customer focused solutions that have made Spectracom one of the leading brands in the industry for the last three decades." Said George Gazarek, President and CEO of Spectracom." There is every reason to believe that the TimeView 210 will be as ubiquitous in offices, factories, banks and plants around the World as the PC has become. Similarly the TimeView 210 will provide real productivity increases. The ability to know exactly what the current time is, is a fundamental foundation of the industrial society we live in."

With a list price of $499 USD in single quantities the TimeView 210 provides an economic alternative to slave clocks fed by expensive to install conduit and cable." The business case for our wireless solution is outstanding." Said Joe Reminder Wireless Clock Product Manager, Spectracom." Given the average cost of installed conduit with cable at around $10 USD per foot [> $30 USD per meter] in the typical office or factory facility-and given the display range of 75 feet [~25 meters] of our clock, the cost of the cable run is 50% more expensive than one of our displays-and that excludes the cost of a wired clock!"

Spectracom chose NMW 2002 in Chicago as a launch pad for their new wireless clock as it's the premier trade show of it's kind, reaching a significant audience not just in the US but around the world with attendees from over fifty countries expected." Spectracom is the supplier of choice around the world in our industry, and our international distribution channel is growing all the time." Said Debbie Basile, International Sales at Spectracom.

To enable the wireless clock requires an in house radio or paging system, a Spectracom NetClock® Master Clock, and TimeBurst® to politely inject a high accuracy burst of time data into the radio broadcast. A significant side benefit of the NetClock Master Clock is the ability to synchronize the enterprise computer network within every server and client-all within the enterprise firewall.

List Prices
NetClock NTP Master Clock $2,135
TimeBurst $1,200
TimeView 210 $499

Spectracom can be found at Booth #4429 at NMW March 18 to 21

About Spectracom
Spectracom Corporation is a privately held company in East Rochester, NY founded in 1972. The company manufactures synchronized and traceable time and frequency products, using either GPS satellite or WWVB radio transmissions to provide precision time or frequency control. Spectracom serves the HD Digital TV transmission, Test & Measurement, Simulcast, Telecom, Public Safety, Computer Network and Wireless time of day market segments.

For additional information on Spectracom or the products they offer, please visit www.spectracomcorp.com/ or call (716) 381-4827.


More from Electrical Equipment & Systems