Wireless Charging Transmitter Coil features 24 µH inductance.
Press Release Summary: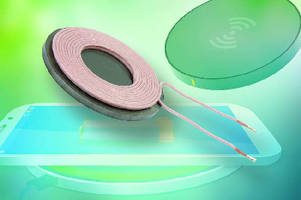 Featuring high permeability shielding, Model IWTX-47R0BE-11 saves space in Qi wireless charging pads, while providing efficiency greater than 80% when paired with Vishay Rx coil and Qi-compatible Rx and Tx circuitry. Powdered-iron-based device is suitable for use in WPC-compatible TX circuits operating with 19 V input for up to 10 W wireless charging applications. RoHS-compliant coil features inductance of 24 µH at 200 kHz, DCR of 71 mΩ (±10%) at +25°C, and Q of 200 typical at 200 kHz.
---
Original Press Release:

Vishay Intertechnology AEC-Q200-Qualified Wireless Charging Transmitter Coil Offers Small Size and High Efficiency for Qi Wireless Charging Pads



MALVERN, Pa. – Vishay Intertechnology, Inc. (NYSE: VSH) today introduced a new AEC-Q200-qualified, powdered-iron-based, WPC-compliant (Wireless Power Consortium) wireless charging A10 type transmitter coil. Offering a durable construction and high permeability shielding, the new Vishay Dale IWTX-47R0BE-11 is 18 % smaller than previous-generation solutions to save space in Qi wireless charging pads, while providing high efficiency greater than 80 % when paired with a Vishay Rx coil and appropriate Qi-compatible Rx and Tx circuitry. The IWTX-47R0BE-11 is suitable for use in WPC-compatible Tx circuits operating with 19 V input for up to 10 W wireless charging applications.



Designed for use in conjunction with Vishay's WPC-compliant wireless receiver coils, the IWTX-47R0BE-11's high-saturation powdered iron is not affected by permanent locating magnets. As an alternative to larger ferrite-based solutions — which can saturate in the presence of a strong magnetic field — the IWTX-47R0BE-11 offers a magnetic saturation of 50 % at 4,000 gauss.



The RoHS-compliant device features inductance of 24 µH at 200 kHz with a +5 % / -10 % inductance tolerance, DCR of 71 mΩ (± 10 %) at + 25 °C, and Q of 200 typical at 200 kHz. The transmitter coil features a lead length of 40 mm and tinned length of 5 mm, and self-resonant frequency of 7 MHz.



Samples and production quantities of the IWTX-47R0BE-11 Tx coil are available now, with lead times of 14 weeks for large orders. Pricing for U.S. delivery only is $3.75 per piece in 1,000-piece quantities.



Vishay Intertechnology, Inc., a Fortune 1000 Company listed on the NYSE (VSH), is one of the world's largest manufacturers of discrete semiconductors (diodes, MOSFETs, and infrared optoelectronics) and passive electronic components (resistors, inductors, and capacitors). These components are used in virtually all types of electronic devices and equipment, in the industrial, computing, automotive, consumer, telecommunications, military, aerospace, power supplies, and medical markets. Vishay's product innovations, successful acquisition strategy, and "one-stop shop" service have made it a global industry leader. Vishay can be found on the Internet at www.vishay.com.



Link to Datasheet: http://www.vishay.com/ppg?34412 (IWTX-47R0BE-11 24 µH).



Vishay Contact:

Andrew Post

Senior Manager

Global Communications

Vishay Intertechnology, Inc.

Telephone: 1 610 251-5287

Fax: 1 610 889-9429

Email: andrew.post@vishay.com



Follow Vishay: http://twitter.com/vishayindust  http://www.facebook.com/VishayIntertechnology



More from Health, Medical, & Dental Supplies and Equipment