Computer and Communication Terminals
Wireless Barcode Terminals accurately scan smeared barcodes.
Press Release Summary: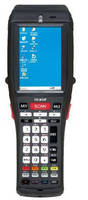 Equipped with Advanced Scan Plus(TM) CCD technology, BHT-1100 Series can scan from more than 25 ft away. Specially designed scan angle minimizes screen glare and provides readability under varying lighting conditions. Terminals also include wide-area 802.11b/g/n wireless coverage and optional built-in digital camera for taking photos of defective goods during inspection. Constructed with shock-absorbent material molded onto terminal's head, units withstand bumping and dropping.
---
Original Press Release:

New DENSO ADC BHT-1100 Handheld Wireless Barcode Terminals



LONG BEACH, Calif.--DENSO ADC, the Americas sales arm of DENSO Wave Incorporated, inventor of the QR Code®, announced the BHT-1100 Series of handheld wireless barcode terminals. The new devices offer several outstanding features that make barcode scanning quicker and easier, thus increasing operator efficiency.

DENSO's Advanced Scan Plus(TM) CCD technology can read barcodes three times faster than a laser scanner and from up to 25 feet or more away, allowing the operator to quickly and continuously scan stock shelves from floor to ceiling without having to use a stepladder. In addition, the BHT-1100 terminals have an expanded scan pattern, resulting in accurate scanning of even smeared barcodes or those that have become partially obscured by dirt.

The terminals' ergonomic design features a large, easy-to-read screen and a slim, easy-to-hold grip, to reduce operator fatigue. A specially designed scan angle, based on studies of units in actual operation, minimizes screen glare and provides high readability under varying lighting conditions, helping prevent eyestrain.

Wide-area 802.11b/g/n wireless coverage and high-speed data transmission make communication quicker and easier even in large stores or warehouses. An optional built-in digital camera allows the operator to take photos of defective goods during inspection, eliminating the need to carry a separate camera.

The highly durable and rugged construction of the BHT-1100 Series includes shock-absorbent material molded onto the terminal's head, to prevent damage due to bumping or dropping, as well as wear-resistant lettering on the keys. The devices have been tested to withstand being dropped onto concrete 60 times from a height of 1.5 meters (5 ft.).

"Our new BHT-1100 handheld wireless barcode terminals offer a wealth of advanced technology that makes scanning easier and quicker," said Fran Labun, vice president, Sales Groups. "We are confident our customers will welcome the way these devices increase operator efficiency."

To learn more about the new BHT-1100 handheld barcode terminals, visit www.denso-adc.com/products/bht-1100bw-ce.

DENSO ADC is the Americas sales arm of DENSO Wave Incorporated, a pioneer of CCD technology and inventor of the QR Code. DENSO Wave is among the world's largest manufacturers of mobile data-capture systems. DENSO ADC manages sales of its barcode-scanner products throughout North and South America. For more information, visit www.denso-adc.com.

DENSO Corporation, headquartered in Kariya, Aichi prefecture, Japan, is a leading global automotive supplier of advanced technology, systems and components in the areas of thermal, powertrain control, electric, electronics and information and safety. Its customers include all the world's major carmakers. Worldwide, the company has more than 200 subsidiaries and affiliates in 35 countries and regions (including Japan) and employs approximately 120,000 people. Consolidated global sales for the fiscal year ending March 31, 2012, totaled US$38.4 billion. Last fiscal year, DENSO spent 9.5 percent of its global consolidated sales on research and development. DENSO common stock is traded on the Tokyo and Nagoya stock exchanges.

In North America, DENSO employs more than 13,000 people with consolidated sales totaling US$6.2 billion for the fiscal year ending March 31, 2012.

Contacts

DENSO ADC

Eddie Stevenson, 310-952-7955

CIS Marketing Manager

eddie_stevenson@denso-diam.com

www.denso-adc.com

More from Materials