Wireless Analog Bridge/Transceiver has 4 channels of I/O.
Press Release Summary: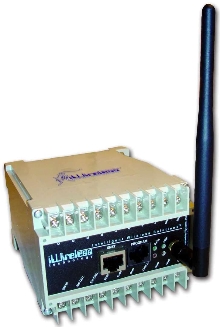 Model RT12-4411 Wireless analog bridge(TM)/Wire Replication Transceiver converts and replicates wired sensor system into seamless wireless connection between any 4-20 mA, 0-5 Vdc, or 0-10 Vdc signal or sensor and data logger, controller, or SCADA equipment. Bi-directional, full duplex, 12-bit analog I/O enables complete control and monitoring. Features include real-time clock, event logger, communications alarms, and input voltage monitor.
---
Original Press Release:

Advanced Embedded Systems Introduces it's 4 channel, Full Duplex, Bi-directional, Seamless, 4-20ma, 0-5vdc, 0-10vdc, Wireless Analog Bridge/Transceiver


New RT12-4411 Wireless, 4 channel, full duplex, analog/signal Transceiver allows a seamless connection between a wide variety of sensors and data loggers, controls or SCADA equipment, at an affordable price.

June 22, 2005; Tucson, Arizona

Advanced Embedded Systems, Inc. (AES) is now shipping its powerful RT12-4411 Wireless, full duplex, Bi-directional analog bridge(TM)/ Wire Replication transceiver.

The RT12-4411 is equipped with four channels of Bi-Directional, Full Duplex 12-bit analog INPUTS and OUTPUTS allowing for complete control and monitoring. The system is a highly accurate wireless system designed to convert and replicate a wired sensor system into a seamless wireless connection between any 4-20ma, 0-5vdc or 0-10vdc signal or sensor and a data logger, controller or SCADA equipment.

Packed full of features such as a real-time clock, built in event logger, communications alarms, input voltage monitor, battery backup and in-circuit battery charger.

Optional programming and monitoring software allows for sensor data to be displayed in, graphic and numeric form. Data can be formatted using programmable engineering units. Programmable input labels allow you assign names such as "Voltage", "Current", "Pressure", etc, to each of the INPUTS for the Master and Slave units.

Programmable features such as polling rates, id number, subnets, labels, full scale engineering units, etc, may be easily changed.

Optional UDP/EMAIL module allows monitoring of a Master/Slave Pair via Ethernet. Email can be generated based on a communication error or a scheduled update.

"It's easier than ever to connect remote sensors to a PLC or monitoring equipment, said Bill Conley, Founder and President of AES. Our goal was to produce a high quality, low cost, easy to use wireless analog bridge. The RT12-4411 allows for easy connectivity between a remote site and a PLC or monitoring station. We're convinced it's the most cost-efficient, ready-to-use answer to remote telemetry monitoring and control."

The RT12-4204 may be shipped with a 900mhz or 2.4Mhz, License Free ISM Band, Frequency Hopping Spread Spectrum radio.

Perfect for SCADA equipment, data loggers, controls, water pumps, water wells, oil wells, load cells, pressure, voltage, current, temperature and humidity. The product is available directly from Advanced Embedded Systems, Inc. (advancedembedded.com).

About Advanced Embedded Systems, Inc.;
Advanced Embedded Systems Inc. provides engineering consulting as well as finished products for the sensor and wireless industry. AES specializes in product designs incorporating embedded processors and RF communication. Formed in 1994, AES is a Certified Microchip and Maxstream company. Please contact our exclusive manufacture representatives, D&D Engineering at 1-888-333-6474 or contact AES directly; sales@advancedembedded.com or fax request to 1-520-616-0069.

More from Laboratory and Research Supplies and Equipment