Wireless Access Point provides LAN bridge for SMBs.
Press Release Summary: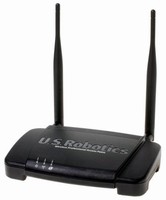 Offering multiple security features, USR5453 Professional Access Point enables deployment of wireless network in facilities located away from main network infrastructure. Interface lets users control entire cluster of access points directly or with SNMP functionality. Compatible with 802.11b/g, product can provide high-speed wireless connections between 2 LANs and features VLAN support, clustering functionality, and load balancing as well as network health monitoring capabilities.
---
Original Press Release:

USRobotics Expands Wireless Business Class Product Offerings



Feature-rich, Professional Access Point Ideal for Small- and Medium-Sized Businesses

Chicago (March 27, 2006) - USRobotics, a Platinum Equity company, announced the expansion of the company's wireless business class product line with the addition of the USR5453 Professional Access Point. A powerful wireless access point with the management and security features demanded by small- and medium-sized organizations, the USR5453 is ideal for businesses looking to deploy a high-performance wireless network.

Designed with advanced management and monitoring capabilities, powerful security options, flexible installation procedures, and excellent compatibility, the USR5453 delivers a powerful array of features at an exceptional price point.

"Our resellers that focus on the small- and medium-sized customer segment have told us that they want wireless access points that provide great security and manageability, especially support for clustering," says Jim Thomsen, USRobotics' Senior Product Manager, Wireless. "The USR5453 enables up to seven access points to be managed from one 'master', automatically updating security settings and other wireless parameters."

The USR5453 enables network administrators and business owners to deploy a wireless network in offices, warehouses, guest areas, and other facilities located away from the company's main network infrastructure. The management interface allows customers to manage an entire cluster of access points directly, or with integrated SNMP functionality. Features like Multi-SSID/Multi-BSSID and Virtual Local Area Networking (VLAN) make this an ideal access point for hotspot providers or for businesses looking for secure and segregated wireless connections for employees and guests.

Features of the USR5453 Professional Access Point include:
Business class Management and Monitoring
o Easily managed with web interface, Telnet, SSH, or through third-party SNMP management software
o Network health monitoring including: status, throughput, security, RF interference, connected clients, and more
o QoS support for prioritizing bandwidth for delay-sensitive applications (e.g. VoIP)

Powerful Security
o Multi-SSID/Multi-BSSID for secure and segregated employee and guest traffic
o Virtual Local Area Networking (VLAN)support
o WiFi Protected Access 2 (WPA2)/802.11i, WPA and 64/128-bit WEP encryption
o Support for IPSec, PPTP, and L2TP VPN pass-through
o SSID Broadcast disable
o Rogue AP detection
o Embedded Radius Server (100 users) and redirection to multiple Radius servers (i.e. 802.1x)
o MAC Filtering

Easy Installation and Management
o Simple 1-2-3 configuration - Automatic discovery of USR5453 APs on a network using proprietary discovery protocol
o Clustering functionality makes adding additional access points to a network "plug-and-play" - AP configuration is securely replicated into each new AP automatically
o Dynamic Channel Planning and Auto Channel Selection simplify initial channel assignments and assure access points always maintain optimal channel configuration
o Load Balancing shares the connectivity load evenly across multiple access points
Excellent Compatibility and Superior Flexibility
o Complete compatibility with standard 802.11b, 802.11g
o Easily provide high-speed wireless connections between two Local Area Networks (LANs) with LAN-to-LAN bridging to share network resources and provide client connectivity
o Extend your wireless network without the need for running additional Ethernet cabling (WDS)
o Can be wall mounted for convenient placement

The USR5453 is a part of USRobotics' business class family of products, which includes wired and wireless networking solutions, security and storage devices, and VoIP and Skype-certified products. Available at e-tailers and direct marketers in April, the USR5453 list price is $179.99.

About USRobotics
USRobotics is a Platinum Equity company. For three decades, the company has been a leader in Internet access and networking, helping millions of people connect to the Internet with powerful, innovative products. The company is rapidly expanding its category leadership by transforming the latest technologies into reliable and easy-to-use high performance products, including high-speed, broadband modems; wired and wireless networking solutions; and Internet security devices; for the growing home, home office, and small- to medium-sized business markets. The company is dedicated to keeping people connected worldwide - to information, entertainment, and each other. USRobotics is privately held and headquartered in the Chicago area with its EMEA headquarters base in the UK. For further information, please visit the Web site at www.usr.com.

USRobotics is a registered trademark of U.S. Robotics Corporation. All rights reserved. All other company names mentioned herein may be trademarks of their respective owners.

More from Material Handling & Storage