Wireless Access Point is based on Wave 2 features of 802.11ac.
Press Release Summary: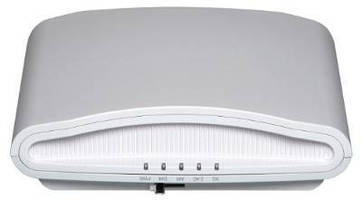 Ruckus ZoneFlex™ R710 has multi-user multiple I/O, allowing simultaneous transmission of multiple client streams to different devices over same frequency. Unit supports up to 4 spatial streams and 500 concurrent clients, while 4 x dual-band smart antenna arrays allow for over 4,000 unique directional antenna patterns/radio, mitigating up to 15 dB of RFI. Delivering up to 5 dB signal gain, unit supports spatial multiplexing, adaptive antenna switching, and transmit beamforming.
---
Original Press Release:

Ruckus Redefines High-Speed, High Capacity Wi-Fi with Industry's First 802.11ac Wave 2 Access Point



New Ruckus ZoneFlex R710 Delivers Multi-Gigabit Wi-Fi Performance to Help Enterprises and Service Providers Meet Voracious Demands for More Wireless Capacity and Speed



SUNNYVALE, Calif. - Ruckus Wireless, Inc. (NYSE: RKUS) today unveiled the Ruckus ZoneFlex™ R710 access point (AP), the industry's first Wi-Fi AP based on Wave 2 features of the 802.11ac standard that extends Wi-Fi to enable multi-gigabit Wi-Fi performance and unprecedented capacity.



The new Ruckus ZoneFlex R710 is the first Wi-Fi access point to now support major technical advances in the 802.11ac standard that allow the simultaneous transmission of multiple client streams to different devices over the same frequency, a highly anticipated new capability called multi-user multiple input/multiple output (MU-MIMO). This enables over two times the density of mobile devices versus Wave 1, and aggregate data rates exceeding two gigabits per second.



Among the first organizations to deploy the ZoneFlex R710 within a production environment, the City of San Jose, CA sees big value in the migration to new 802.11ac Wave 2 technology.



"We are at an inflection point in the industry as we deal with insatiable demand for wireless capacity and speed," said Vijay Sammeta, Chief Information Officer for the City of San Jose. "We need to be able to plan and prepare for devices and services we haven't even seen yet. Wave 2 represents an investment in a platform that not only meets our current needs, it will also meet those in the future that we can't even predict. Delivering our Wickedly Fast Wi-Fi service has become a distinct competitive advantage for the City of San Jose. The Ruckus ZoneFlex R710 helps us take this to the next level.  It's simply the best performing Wi-Fi access point we've ever deployed, even without multi-user MIMO clients."



According to Sammeta, after installing the Ruckus ZoneFlex R710, the City was able to achieve dramatic performance improvements, reaching over 445 megabits per second speed with two-stream-capable laptops, and over 200 megabits per second with single-stream mobile smart phones.



"The R710 is an extraordinary feat of engineering that marks a new era for our industry," said Selina Lo, president and CEO of Ruckus Wireless. "The work and innovation we've put into the R710 reflects our leadership in delivering the world's best in class wireless products that stand the test of time."



Ruckus Delivers Unique Advantage with BeamFlex™

Within a sleek and elegant new design, the Ruckus ZoneFlex R710 access point supports up to four spatial streams and 500 concurrent clients.  Additionally, each ZoneFlex R710 access point integrates Ruckus-patented BeamFlex™+ adaptive antenna technology, designed to enhance the operation of Wave 2 802.11ac technology by optimizing antenna coverage on a per client, per transmission basis.



With four discrete, dual-band smart antenna arrays, the ZoneFlex R710 is capable of dynamically creating over 4,000 unique directional antenna patterns per radio, mitigating up to 15dB of RF interference while also reducing co-channel interference. Dual-polarized smart antennas also allow the R710 to automatically adapt to the changing physical orientation of mobile client devices such as smartphones and tablets, thereby helping to maximize uplink performance and offer unmatched reception of weak mobile client signals.



With BeamFlex+, the ZoneFlex R710 also offers a significant increase in performance and range, delivering up to 5dB of signal gain and aggregate data rates of over two gigabits per second (Gbps), 1,733 Mbps (@ 5 GHz) and 800 Mbps (@ 2.4 GHz).  Backwards compatible with existing Wi-Fi clients, the ZoneFlex R710 can operate as a standalone Wi-Fi access point or part of a centrally managed Ruckus Smart Wireless LAN (WLAN).  Additionally, the ZoneFlex R710 is equipped with dual gigabit Ethernet ports that can be aggregated to satisfy peak throughput requirements for maximum investment protection.  The ZoneFlex R710 is also unique in its ability to support spatial multiplexing, adaptive antenna switching and transmit beamforming--designed to ensure that Wi-Fi performance and reliability are never compromised. The ZoneFlex R710 maintains full 4x4:4 802.11ac functionality with standard 802.3af Power over Ethernet (PoE), eliminating the need for costly and cumbersome wired switch upgrades.



Monetizing Wi-Fi

The ZoneFlex R710 has a built-in USB port to accommodate Bluetooth Low Energy (BLE) beacons and other Internet of Things (IoT) devices. This, combined with Ruckus SPoT™ location-based services (LBS) and analytics, enable opportunities for enterprises and Service Providers to monetize their Wi-Fi investment in public venues through rich analytics and location-based user engagement.



Pricing and Availability

Available this quarter, the new Ruckus ZoneFlex R710 indoor access point has an MSRP of $1,295 (USD), and will be available through authorized Ruckus BiG DOG resellers worldwide.



ABOUT RUCKUS WIRELESS

Headquartered in Sunnyvale, CA, Ruckus Wireless, Inc. (NYSE: RKUS) is a global supplier of advanced wireless systems for the rapidly expanding mobile Internet infrastructure market. The company offers a wide range of indoor and outdoor "Smart Wi-Fi" products to mobile carriers, broadband service providers, and corporate enterprises, and has over 48,000 end-customers worldwide. Ruckus technology addresses Wi-Fi capacity and coverage challenges caused by the ever-increasing amount of traffic on wireless networks due to accelerated adoption of mobile devices such as smartphones and tablets. Ruckus invented and has patented state-of-the-art wireless voice, video, and data technology innovations, such as adaptive antenna arrays that extend signal range, increase client data rates, and avoid interference, providing consistent and reliable distribution of delay-sensitive multimedia content and services over standard 802.11 Wi-Fi. For more information, visit http://www.ruckuswireless.com.



BeamFlex, Ruckus, Ruckus Wireless, SPoT, and ZoneFlex are trademarks of Ruckus Wireless, Inc. in the United States and other countries. All other product or company names may be trademarks of their respective owners.



Media Contact

Mark Priscaro

Ruckus Wireless

mark.priscaro@ruckuswireless.com

+1 925-367-5505



Video - http://youtu.be/Dvg3ZJTyn4U

Video - https://youtu.be/3sJUzK4xjHk



Source

Ruckus Wireless, Inc.



Web Site: http://www.ruckuswireless.com





Related