Wireless Access Point Ceiling Mounts hold Cisco 3500i devices.
Press Release Summary: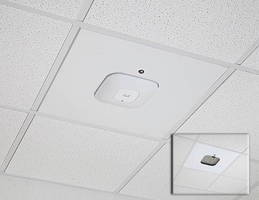 Model 1064-00 and 1064-T ceiling mounts, suspended from ceiling structural system, appear as standard 2 x 2 ft ceiling tiles. Cisco 3500i wireless access point is inserted into opening and locked in place using Oberon's locking mechanism. Ceiling-mounted position provides optimal wireless coverage.
---
Original Press Release:
Oberon, Inc. Introduces Model 1064 Mounting Solution for Cisco 3500i Wireless Access Point
Convenient and Aesthetic ceiling mount for Ciscos new 3500i Wireless Access Point Provides Security Oberon, Inc., a leading provider of networking enclosure equipment, has announced the updated Model 1064-00 and 1064-T for use with Ciscos new 3500 series 802.11n wireless access points. Ciscos new 3500 series access points offer the most advanced capability for mission critical wireless networks (http://www.cisco.com). The 3500 series is based on the popular Cisco 1140 series access points physical form-factor, greatly enhanced with Cisco Clean Air software and silicon technology. Oberons model 1064-00 and 1064-T ceiling mounts have been updated to accommodate both the Cisco 1140 and, now, the Cisco 3500i access point. The model 1064-00 or 1064-T is suspended from the ceilings structural system. The mount looks like a standard 2 x 2 ceiling tile. The access point is inserted into the opening and locked in place using Oberons patent pending locking mechanism. The installation is very clean and professional looking. Wireless coverage is ideal from the ceiling mounted position. Please visit the product installation video on the Oberon you tube channel at www.youtube.com/watch?v=OFsQ0wqItmk. Most of Oberons ceiling and wall mounting solutions will be updated to accommodate the new Cisco 3500i, 3500e, and 1260 wireless access points by June 1, 2010. Please contact your Oberon customer service representative for availability of mounting solutions for new Cisco products. Additional information regarding Oberon products can be obtained by visiting oberonwireless.com/pr001 or calling 1-877-867-2312. ABOUT OBERON, INC. - Since 1999, Oberon, Inc. has been providing products and services to integrators and end users of wireless LAN "Wi-Fi" network products. Oberon's enclosure and antenna products are used where the RF coverage, infrastructure security, environmental robustness, and aesthetics are paramount in the network design and implementation. Oberon's Wi-Fi monitoring product (DOT11 Monitor) is used where wireless connectivity is mission critical. Oberon's products and services have helped hundreds of integrators and end-users in the global healthcare, government, transportation and logistics, education, retail, hospitality and manufacturing verticals achieve reliable indoor network connection mobility. Oberons web address is oberonwireless.com. For more information or regarding this press release, please contact Oberon, Inc. at 1-877-867-2312 or via oberonwireless.com.
More from Electrical Equipment & Systems