Wired and Wireless Remotes streamline engine-driven welder use.
Press Release Summary: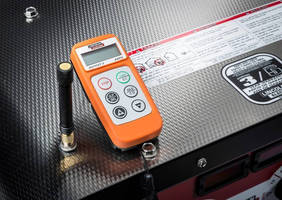 Weather-resistant, wired remote controls, available with or without 115 Vac power duplex receptacle, include 125 ft detachable cable and enable Min/Max range to be set in seconds for Cross Country® 300 and SAE-300® MP. Offering 400 ft range, separately available wireless remote controls are also weather resistant and let operators activate glow plug for 1–30 sec, stop/start engine, activate high/low idle, and adjust current control. These feature textured, stainless-steel case.
---
Original Press Release:

Lincoln Electric Rolls Out New Wired and Wireless Remotes for Top Pipeline and Construction Engine-Driven Welders



Offers limited-time end user cash rebate for wired remote One-Paks and factory-installed wireless systems



Cleveland – New remote controls for Lincoln Electric's Cross Country® 300 and SAE-300® MP engine-driven welders aim to streamline operations for pipeline welders and those working in construction applications. Lincoln Electric is introducing two new wired remote control units and new welders with factory-installed wireless remote systems.



The new wired remote controls, available with or without an 115V AC power duplex receptacle, include a generous, 125-foot (38.1-meter) detachable cable. A customizable Min/Max range sets easily in seconds. And, the small, weather-resistant units stow easily in trucks or job boxes.



Both units are offered as accessories for the Cross Country 300 and SAE-300 MP welders. The K4268-1 Wired Remote with an 115V AC auxiliary power duplex receptacle also comes bundled in new One-Pak® packages for the Cross Country 300 and SAE-300 MP.



A first for Lincoln Electric – new wireless remote controls – now are factory-installed in the new, textured, stainless-steel case and gray-painted-steel case versions of the Cross Country 300. A new textured stainless steel case and wireless remote are also offered on the SAE-300 MP welder. These small, weather-resistant remotes fit right in operators' hands and have a 400-foot (122-meter) range, depending on site obstructions.



Using the wireless remote, operators can activate the glow plug for one to 30 seconds, stop and start the engine, activate high or low idle and adjust the current control.



$1000 End User Cash Rebate

From now until May 16, Lincoln Electric is offering a special $1,000 end user cash rebate on each of the Cross Country 300 and SAE-300 MP One-Pak packages containing the new wired remote controls. The rebate offer also applies to welder models equipped with the new wireless remote controls. All rebate claims must be received no later than May 31.



For more information on Lincoln Electric, visit www.lincolnelectric.com.



Lincoln Electric is the world leader in the design, development and manufacture of arc welding products, robotic arc welding systems, plasma and oxyfuel cutting equipment and has a leading global position in the brazing and soldering alloys market. Headquartered in Cleveland, Ohio, Lincoln has 48 manufacturing locations, including operations and joint ventures in 19 countries and a worldwide network of distributors and sales offices covering more than 160 countries. For more information about Lincoln Electric and its products and services, visit the company's website at www.lincolnelectric.com.



Media Contacts:

Robin Suttell – rsuttell@fallscommunications.com or 216.696.0229

Greg Coleman – greg_coleman@lincolnelectric.com or 216.383.2462

More from Electronic Components & Devices