Wire-Wound Power Inductors offer low-profile, high current.
Press Release Summary: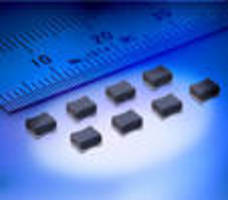 Measuring 3.2 x 2.5 x 1.7 mm, BRL3225 series is comprised of 7 wire-wound chip inductors used for switch-mode DC/DC converter applications in high-current-use devices. Each employs sleeveless square-core winding that eliminates wasted space and thickens lead wire inside inductor to achieve lowest possible DC resistance (down to 0.043 W). From EIA 1210 form factor, models offer inductance values from 1.0-100 µH ±20% and max saturation current ratings from 270-2,400 mA.
---
Original Press Release:

Taiyo Yuden's New Low-Profile Wire-Wound Power Inductors Offer Compact Size, Highest Rated Current in EIA 1210 Form Factor



The BRL3225 series adds higher current ratings to the company's BR series power inductor line up, while maintaining high inductance and low DC resistance values

SCHAUMBURG, IL - January 7, 2009 - TAIYO YUDEN (U.S.A.) INC. announces the immediate availability of its new BRL3225 series of compact, low profile, wire-wound chip inductors for switch-mode DC-DC converter applications in digital cameras, portable games, hard disk drives and other high-current-use devices. Measuring just 3.2 mm x 2.5 mm with a 1.7 mm maximum height, the seven models in the BRL3225 series (see table) offer an excellent combination of high current and inductance and low DC resistance (RDC ). The BRL3225T-1R0M, for example, is rated at 2.4 A at 1.0 µH inductance while providing 0.043 Ohms RDC. Claiming the highest current rating in a 1210-size device, the BRL3225 series is now being produced at the rate of 10 million units per month.

Compact digital devices are seeing increased need for switch-mode DC-DC converters to maximize efficient use of battery power stretched to the limit by added end-device functionality. Because higher-performance products require increased current availability, greater attention is now being paid to the DC bias characteristics of power inductors playing an increasingly important role in power IC designs.

In response to this challenge, TAIYO YUDEN optimized the core shape and electrode structure of the conventional inductor design by means of a unique sleeveless square-core winding that eliminated all wasted space and thickened the lead wire inside the inductor to achieve the lowest possible DC resistance. As a result, the company was able to develop a compact, high-efficiency chip inductor with the industry's highest current rating in the EIA 1210 form factor, while also providing optimal inductance and DC resistance values.

The BRL3225 product family includes the following available devices. In addition, selected part numbers (not shown) are available for applications requiring tighter inductance tolerances of ±10%.

         Inductance (µH)   RDC (Ohms),       Rated Current (mA), Max

Part Number      ±20%       Average    Saturation Current   Temperature Rise

                                          Current



BRL3225T 1R0M     1.0        0.043        2400          2200

BRL3225T 2R2M     2.2        0.065        1850          1600

BRL3225T 4R7M     4.7        0.180        1300          1000

BRL3225T 100M     10         0.350        900           700

BRL3225T 220M     22         0.690        550           470

BRL3225T 470M     47         1.00        420           390

BRL3225T 101M     100        2.50        270           250

For further information about the company's complete line-up of SMD chip inductors, multi-layer ceramic capacitors (MLCC) and other passive components, contact TAIYO YUDEN (U.S.A.) INC.

Sample Price (each): $0.20

Availability: Now; in volume

Delivery: 2 weeks ARO

About TAIYO YUDEN:
Now in its 59th year, Tokyo-based TAIYO YUDEN CO., LTD. is a worldwide manufacturer of surface-mount and leaded passive components, Bluetooth modules, CCFT inverters and recordable digital media. With approximately 50% of the worldwide market in high-frequency multilayer chip inductors used in cell phones, the company reports annual sales of US$2.06B. Worldwide, TAIYO YUDEN employs more than twenty thousand people. The company's North American affiliate, TAIYO YUDEN (U.S.A.) INC., operates sales and engineering offices in Chicago, IL, Raleigh, NC, Irving, TX, and in California at San Jose and San Diego. For further information, visit the company's website at: www.t-yuden.com.

Related