Applicator / Finishing / Cleaning Brushes
Wire Wheel Brushes provide safe operation.
Press Release Summary: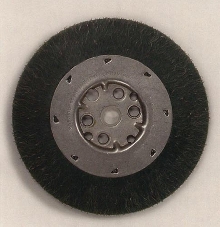 Anderbond Crimped Wire Wheel Brushes are produced by encapsulating wire brush material with elastomer. Because brushes do not flare out, aggressive brushing action is achieved with minimum pressure. Applications include: removing rubber from ends of pressure hoses; removing varnish from bearing surface of electrical components; removing insulation coating from electrical wires; and preparing tires for recapping.
---
Original Press Release:

Confidence with Anderbond(TM) in Applications


Anderson Products' Anderbond Crimped Wire Wheel Brushes provide longer brush life, safe operation, stronger brushing action and less wire breakage than conventional crimped wire wheel brushes. The Anderbond brushes are produced by encapsulating the wire brush material with an elastomer. Because the brushes do not
flare out, aggressive brushing action is achieved with minimum pressure.

Removing rubber from the ends of pressure hoses; removing varnish from the bearing surface of electrical components; removing insulation coating from electrical wires; removing burrs from mechanical parts and ends of tubing; preparation of tires for recapping; removing rubber flash and mold runout rubber-to-metal parts and the roughening of rubber, leather and other surfaces to prepare for adhesive bondings are just a sampling of the multi-faceted typical applications so many of our customers perform with ease using our Anderbond Crimped Wire Wheel Brushes.

Anderson Products also offers an extensive line of abrasive products, industrial brushes and maintenance products.

For additional information, contact your nearest Anderson distributor, or contact: Anderson Products, 1040 Southbridge Street, Worcester, MA 01610; Toll free (800) 755-6101; FAX: (800) 729-4694; www.andersonproducts.com.

CONTACT: Eric Aho
PHONE: (800) 755-6101, ext. 3017

Related