Wire-to-Board Connector connects multiple coax cables in one step.
Press Release Summary: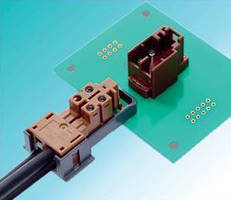 Reducing vehicle roof antenna installation time, GT36 Series provides one-step connection of multiple coaxial cables to PCB. Internal solution specifically enables attachment of 4 coaxial lines to automotive antennas, including shark fin antennas, and features rugged positive lock structure that offers lock strength of 98 N. RoHS- and ELV-compliant product has rated voltage of 50 Vac, rated current of 1 A, contact resistance of 50 mΩ max, and insulation resistance of 100 MΩ min at 500 Vdc.
---
Original Press Release:

Hirose's New GT36 Series Connector Provides One-Step Connection of Multiple Coaxial Cables



The small, multi-terminal, wire-to-board connectors are designed specifically for use with vehicle roof antennas...



SIMI VALLEY, CA – Hirose, a leader in the development of innovative connector solutions, has developed a small wire-to-board connector that significantly reduces the installation time of automotive rooftop antennas. The multi-terminal GT36 Series connector provides a one-step connection of multiple coaxial cables to the PCB, simplifying the mating operation.



The compact GT36 Series internal wire-to-board connector enables the attachment of four coaxial lines to automotive antennas including shark fin antennas. The GT36 Series has a rugged positive lock structure that offers a lock strength of 98 N. A clear tactile snap and audible click ensures proper mating, while a lock guard prevents cable tangling during wiring and accidental lock release.



The highly reliable plug assembly features a retainer that delivers secure terminal locking and high vibration resistance, making it well suited for automotive applications.



"The GT36 Series connector drastically reduces the assembly procedure of automotive roof antennas, decreasing installation time and cost," said Rick van Weezel, Vice-President of Sales and Marketing for Hirose Electric USA. "Hirose continues to expand our product offering to provide connectivity solutions that address the needs of our customers in the automotive market."



Delivering excellent frequency performance up to 3 GHz, the GT36 Series wire-to-board connector provides high impedance matching and low insertion loss.



When used with the GT21 Series in-line connector, the GT36 Series further simplifies assembly and improves efficiency. The one-to-four position GT21 Series in-line connector features low insertion force and is attachable with a clip.



The GT36 Series is RoHS and ELV (end of life vehicles directive) compliant. With an operating temperature range of -40 degrees C to +105 degrees C, the GT36 Series has a rated voltage of 50V AC, rated current of 1 Amp, contact resistance of 50m ohms maximum, and insulation resistance of 100M ohms minimum at 500V DC.



For additional information about the GT36 Series connectors, please visit: www.hirose.com/us.



ABOUT HIROSE ELECTRIC

Hirose Electric Co., Ltd. is a leading global supplier of innovative interconnects, with sales of over $1 billion to customers worldwide. Hirose employs advanced engineering services, superior customer support and worldwide manufacturing capabilities to provide value-based connector solutions for various industries including: industrial, telecommunication, consumer electronics, computer and automotive. More information can be found on Hirose Electric's corporate website at www.hirose.com/us.



Contact Information

Chris Tubbs, Hirose Electric

(805) 306-2052

ctubbs@hirose.com







More from Electrical Equipment & Systems