Wire Strippers brush away insulation.
Press Release Summary: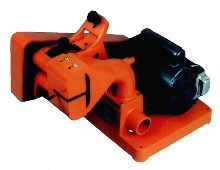 Models E200/E300 will strip most types of film insulation including varnish, enamel, polyester, glass, and resin from round wires between 1 and 20 AWG, square wire up to 1/4 in., or rectangular wire up to 1/4 x 2 in. Wire brush wheels can strip multiple wires at same time. Adjustable length stop can be set for strip lengths from 1/2 to 3-1/2 in. Dust take off port is included for connection to dust removal system.
---
Original Press Release:
E200/E300 Heavy Duty Magnet Wire Strippers

This heavy duty wire stripper will strip most types of film insulation including varnish, enamel, polyester, glass and resin from round wires between 1 AWG and 20 AWG (7.34mmo - 0.81 mmo), square wire up to 1/4" (6.35mm), or rectangular wire up to 1/4" x 2" (6.35mm x 50.8mm).

The wire brush wheels quickly strip away insulation and can strip multiple wires at one time. The adjustable length stop can be set for strip lengths from 1/2" to 3-1/2" (12.7mm - 89mm). A dust take off port is included on the machine for connection to a dust removal system.

Since 1911, The Eraser Company of Syracuse, NY has manufactured a wide range of industrial products, including wire and cable cutters, wire and cable strippers, wire twisters, wire brush wheels, fiber optic tools, dereelers, infrared heating equipment, measuring tools, and fybRglass® erasers. The company is ISO 9001 certified. The company offers Free E.S.P. (Eraser Sample Program). Send a 5-10 foot sample of your material and Eraser will recommend the best solution for your processing needs from its line of more than 200 products. For unique processing needs, Eraser will custom design a solution for you. For more information on Eraser's entire product line or to place an order on-line, visit www.eraser.com.

The Eraser Company, Inc.; PO Box 4961 Oliva Drive; Syracuse, New York 13221 Phone: (315) 454-3237; Fax: (315) 454-3090; E-Mail info@eraser.com; www.eraser.com

More from Electronic Components & Devices