Wire Rope Hoist handles lifting tasks up to 10 tons.
Press Release Summary: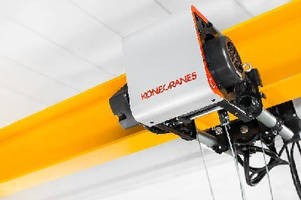 Using inverter control in crane and trolley traveling, CXT UNO Overhead Crane is suitable for material handling and other lifting tasks in warehouses, assembly lines, and factories. Large rope drum diameter and short drum length ensure horizontal travel of hook during lowering is minimal. Unique dimensions mean that not only can floor area under crane be used efficiently, but required height above and below crane is minimized. Adjustment-free and dustproof, brake lasts over 1 million operations.
---
Original Press Release:

Konecranes Introduces Its New Essentials-focussed CXT UNO with Exceptional Cost Efficiency and Ease of Maintenance



Konecranes' brand new CXT UNO crane



A world leader in crane construction and maintenance, Konecranes, has introduced a brand new crane, with features most sought by emerging markets. The CXT UNO draws on its decades of experience in the industry and brings customers greater cost efficiency and ease of maintenance.



CXT UNO is a high quality, highly economical wire rope hoist suitable for a huge range of lifting tasks up to 10t in manufacturing, materials handling and other light lifting tasks in warehouses, assembly lines and factories.



"Konecranes has taken the high quality CXT hoist and redesigned it using the latest slimline components. By selecting only the essential features and core components of the robust, proven technology, Konecranes has been able to create a very cost efficient crane, without compromising on quality," says Mr John Bailey, General Manager, Service Development, Konecranes SE Asia Pacific.



"CXT UNO has a simple design, fast service response and quick spare parts delivery, which helps to minimise downtime and improve ease of maintenance. It has a clean configuration with easy component access. Simple construction also means is it more reliable," says Mr Bailey.



The basis of CXT UNO's steady performance lies in the Konecranes CXT hoist. Its proven technology brings the highest of safety and reliability to working processes. Its excellent design and approach dimensions allow for efficient use of space under the crane.



CXT UNO is backed by full service backup and high availability of spare parts across the globe. Konecranes provides full care for the total life of all the cranes it sells, and as the leading crane maintenance organisation in the world, they are also able to provide service inspections as required.



"We selected the essential features and core components based on our experience and focused on their role in our robust, proven technology. The results is a new crane and hoist combination that is affordable to every lifting business," said Mr Bailey.



All CXT cranes are designed with the following features:



Easy and effective load control, with inverter control as standard in crane and trolley travelling. Improved productivity results, because positioning loads is faster, easier and safer.



Fast and accurate load positioning. Because of the innovative mechanical design of the CXT hoists, with a large rope drum diameter and a short drum length, the horizontal travel of the hook during lowering is minimal.



Space-saving. CXT cranes have excellent hook approaches at both ends of the crane. In existing buildings, this means they can eliminate areas that are unused or not fully used, because the crane can go closer to the walls and lift the load higher. This gives more flexibility in factory layout and material flow planning, with the best possible floor area coverage. New buildings can be designed smaller and more functional. The unique dimensions of the CXT mean that not only can the floor area under the crane be used more efficiently, but also the required height above and below the crane is minimised.



Reliability and safety. The adjustment-free and dustproof hoisting brake is designed for the life time of the hoist and lasts over a million brakings without adjustment. The hoists' gears, meanwhile, provide extreme accuracy combined with hardened and ground gearing for trouble-free operation. The hoists four-step limit switches can slow down operation to improve safety.



Additional Information:



For more information in SE Asia, please contact:

Enez See Toh

Marketing and Communications Manager, South East Asia Pacific

Ph: 65-6 6601267

Mob: 65 – 9772 9853

Email: enez.seetoh@konecranes.com

Konecranes Pte Ltd

8 Admiralty St, #06-11

Admirax, Singapore 757438

www.konecranes.com



For more information in Australasia, please contact:

Konecranes Sales and Marketing

14-16 Heald Rd

Ingleburn NSW 2565

ph 61-2-8796 7666

fax 61-2-9605 4336

email sales.australia@konecranes.com



Sales inquiries 1300 937637 (Australia wide) or visit our website www.konecranes.com.au.



For inquiries about this media release, please contact:

Jack Mallen-Cooper at Whyte Public Relations Pty Ltd

Ph: +61-2-9901-4306

Email: whytepr@whytepr.com.au



About Konecranes, Inc.

Konecranes is a world-leading group of Lifting Businesses™, serving a broad range of customers, including manufacturing and process industries, shipyards, ports and terminals. Konecranes provides productivity-enhancing lifting solutions as well as services for lifting equipment and machine tools of all makes.



In 2013, Group sales totalled EUR 2,100 million. The Group has 11,800 employees, at 600 locations in 48 countries. Konecranes is listed on NASDAQ OMX Helsinki (symbol: KCR1V).

More from Electronic Components & Devices