Wire Rope Grease meets VGP requirement.
Press Release Summary: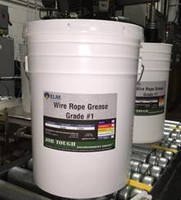 Designed to meet requirement of Vessel General Permit, bio-based Wire Rope Grease is made from carefully selected renewable vegetable oils that are minimally impacted during processing in microwave-based manufacturing reactor. Aluminum complex grease, available in NLGI Grades 0 and 1, offers water washout resistance and provides naturally high degree of lubricity.
---
Original Press Release:

ELM has Released a New Biobased Wire Rope Grease that Meets the Requirement of Vessel General Permit (VGP)



GRUNDY CENTER, IA -- Environmental Lubricants Manufacturing, Inc. (ELM) is the world leader in manufacturing biobased greases using a patented microwave based process. Due to ELM's success in the use of microwave technology the price of their biobased grease is approaching conventional grease prices. The Wire Rope Grease is also made from carefully selected renewable vegetable oils that are less impacted during the reaction due to the faster processing in the microwave based manufacturing reactor.



"This is an aluminum complex grease that offers great water washout resistance; and boasts a naturally high degree of lubricity" according to Lou Honary, ELM President.  The requirement of VGP, which became law in December 2013, is now fully implemented and helps large ships enjoy the freedom to use lubricants including Wire Rope Grease under one permit.



Honary states that "... ELM biobased Wire Rope Grease comes in NLGI Grades 0 and 1 and is price competitive due to our more efficient microwave based processing." ELM plans to actively seek out distributors and companies interested in private labeling its biobased grease products.



About ELM

Environmental Lubricants Manufacturing, Inc. is the leading manufacturer of biobased lubricants and greases in the United States.  ELM products are based on technology developed at the University of Northern Iowa's National Ag-Based Lubricants Center and are formulated with renewable, biodegradable USA-grown vegetable oils.  These lubricants and greases are environmentally friendly and meet or exceed industry performance standards.  Additional information is available at:  http://www.elmusa.com



For more information, please contact Adam Marshall of ELM at 319-824-5203



Adam Marshall

Accounting Supervisor

Environmental Lubricants Manufacturing, Inc.

319-824-5203

adam.marshall@elmusa.com

More from Sensors, Monitors & Transducers