Wire Processing Equipment foster productivity via flexibility.
Press Release Summary: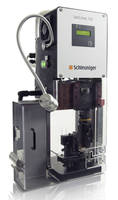 Due to quick change transport unit for belts, rollers, and shortmode, EcoStrip 9380 cut and strip machine delivers flexible capabilities. It works with diverse accessories, has color touchscreen UI, and can be integrated into networks. UniCrimp 100 benchtop crimping press, delivering up to 2 tons of force, has safety guards that can be completely opened and handles wires up to 10 AWG. ShieldCut 8100 safely cuts and removes braided shield layer from shielded cables.
---
Original Press Release:

Schleuniger, Inc. to Demonstrate New Wire Processing Equipment at WHMA Wire Harness Conference



Machines To Be Shown Include the New EcoStrip 9380 and UniCrimp 100, Among Others



Schleuniger, Inc., a leading international manufacturer of high-precision wire processing machines and member of the Wire Harness Manufacturer's Association (WHMA), will present and exhibit at the 23rd Annual WHMA Wire Harness Conference at Chaparral Suites in Scottsdale, AZ, February 23 - 26, 2016. The conference will feature presentations on the latest issues facing the industry and include a small trade show of industry leading suppliers. During the trade show, Schleuniger will be demonstrating select equipment from its comprehensive line of wire processing equipment.



For the first time in the U.S., Schleuniger will demonstrate the new EcoStrip 9380 cut and strip machine. The EcoStrip 9380 offers the most complete feature set at an economical price point. This flexible machine provides expanded capabilities due to its quick change transport unit for belts, rollers and shortmode and is compatible with a wide range of accessories, including prefeeding, marking, stacking and coiling. The intuitive color touchscreen user interface minimizes training and set-up times and with optional Schleuniger software, the EcoStrip 9380 can easily be integrated into various networks.



Also new this year, Schleuniger will demonstrate the economical UniCrimp 100 crimping press. The UniCrimp 100 is a benchtop crimping machine that delivers up to two tons of force. The safety guards can be completely opened to allow easy access to the working area along with simple, fast changeover, adjustment and set up times. The UniCrimp 100 accepts most applicators on the market and provides quality crimping for wires up to 6 mm2 (10 AWG).



The soon to be released ShieldCut 8100 will also be highlighted. The ShieldCut 8100 can safely and quickly cut and remove the braided shield layer from most shielded cables, eliminating countless hours of manual labor. As the only machine of its kind, the ShieldCut 8100 fills a current market need for efficient processing of shielded cables.



Finally, attendees will have the opportunity to experience hands-on demonstrations of two of Schleuniger's benchtop cable stripping machines, the CoaxStrip 5200 and UniStrip 2300. The CoaxStrip 5200 is a multi-step stripping machine for coaxial, multi-conductor cable and single conductor wire. Thanks to the universally designed blades, centralizers, and clamping jaws, the machine can process a full range of cables without the need for mechanical adjustments, saving the user valuable time and increasing output when switching between applications. The UniStrip 2300 features a pre-programmed cable library and a highly responsive trigger sensor that is great for small, flexible wires. In addition, the machine is also able to able to strip different wire sizes without requiring mechanical adjustments. Both the CoaxStrip 5200 and UniStrip 2300 feature user-friendly, high-resolution color touchscreen interfaces and intuitive programming.



Along with exhibiting in the trade show portion, Schleuniger will also provide a short presentation during the "What's New in Our Industry" session at 4:00 P.M. on Tuesday, February 23, highlighting the company's latest innovations.



Schleuniger has participated in the WHMA Annual Conference for several years now and is proud to be part of an organization that is dedicated to addressing the specific needs of the wire harness and cable industry.



More information about these products can be found at www.schleuniger-na.com. Should you have any questions, please e-mail sales@schleuniger.com or call (603) 668-8117.



About Schleuniger

The Schleuniger Group in Thun is a globally active technology company and a leading supplier in the Wire Processing industry. Customers of the Schleuniger Group primarily supply the automotive, entertainment, and information industries as well as the communication sector. Schleuniger products are used whenever precise wire processing plays a role.



Development and production are located in Switzerland, Germany, and China. Schleuniger is always close to its customers - with four Sales and Service companies in the US, Germany, China, and Japan as well as with 40 distributors worldwide.

The Schleuniger Group represents the Business Unit Wire Processing of the listed Metall Zug Group and has about 640 full-time employees and 30 trainees worldwide.

More from Machinery & Machining Tools